PaulaG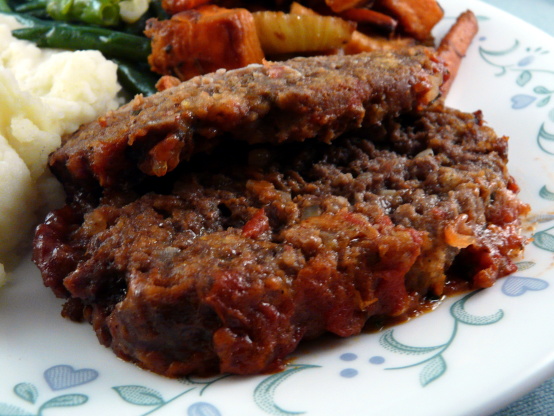 Put your leftover cornbread to good use! From a neighbor when I lived down South. UPDATE (4/11/08): Change from original posting: I've always had to cook this about an hour, but I thought that was just me, so I when I originally posted this I left the cooking time at 3/4 hour, which was how I received it. However, since all the reviewers have noted that they, too, have to cook it longer, I have now changed the cooking time to 1 hour.

This was a big hit at our house - even my 9-year-old who doesn't like meatloaf approved. The cornbread I used was very sweet, so the meatloaf had a bit of sweetness to it. The texture was great - we're looking forward to sandwiches tomorrow. I did need to cook it for a good bit longer than 60 minutes, and I ended up baking it at 350 at the end to speed up the process. (I also let it rest for 10 minutes before slicing.) For personal preferences, next time I'll cut back on the onion (and dice it much smaller than this time), and spread ketchup on the top instead of the tomato sauce mixture.
With your hands, mix together the ingredients ground beef through pepper plus 1/2 cup of the tomato sauce and mold into a loaf shape; place into a greased baking dish.
Combine the rest of the tomato sauce with the mustard through brown sugar plus 3/4 cup water and pour over the meatloaf.
Bake 1 hour at 325F, basting 3 or 4 times during cooking.