Congealed Triple Apple Salad
Prep 10 mins
Cook 10 mins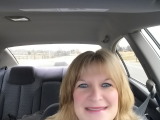 This is good anytime for my family. We love apples. It's a dessert that is good for you too. Very healthy.
Directions
Sprinkle gelatin over apple juice in a small saucepan, let stand 1 minute.
Add sugar; cook over low heat, stirring constantly, until gelatin and sugar dissolve.
Remove from heat; stir in applesauce and almond extract.
Chill until the consistency of an unbeaten egg white.
Combine diced apple and lemon juice, tossing well.
Fold apple into gelatin mixture.
Spoon into a 3 cup mold coated with cooking spray.
Cover and chill until firm.
Unmold salad onto a serving plate.
If desired, garnish with apple wedges and fresh mint sprigs.
Most Helpful
Triple Apple Salad is appropriate since I made it three times back to back. The almond extract highlights the apple flavor. My apples did settle down to the bottom each time (even when I diced them small) so I think that's the way it's supposed to be. I made the first time in a small ring mold but the applesauce-y mixture stuck a little bit (sprayed with Pam) and found it to be more suited to a small glass bowl. I sprinkled a little cinnamon on my servings, which I really enjoyed. My daughter liked it, too, and she doesn't like applesauce but loves apples. Thanks Melanie, for posting. Roxygirl