Company's in the Driveway Shrimp and Avocado Salsa
mliss29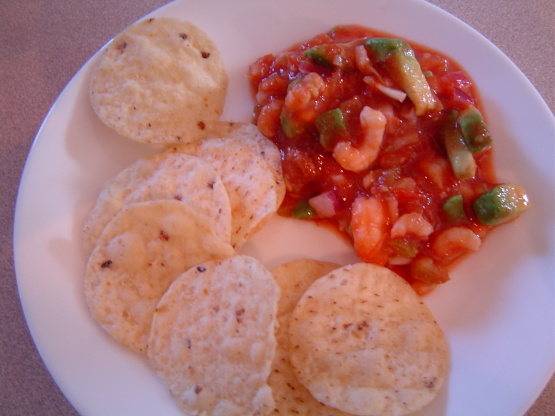 This is a delicious concoction that seems like it took a lot of time but you can whip up in about 10 minutes under pressure. You start with jarred salsa (whatever heat you like) and freshen it up with jalapeno, avocado, onion and shrimp. A shot of lime brightens the flavor and you're ready to hit the patio for a visit with your company. Also great to take to a cookout. Try it with the Chili-Lime Tortilla Chips.
Place shrimp in strainer and run under cold water until thawed, about 5 minutes.
Meanwhile, dice onion and avocado.
In medium bowl place salsa, onion, avocado and shrimp.
Squeeze lime juice over all.
Stir gently to combine.
Serve immediately with tortilla chips, if desired.