Comforting Chicken Noodle Soup
LISA C.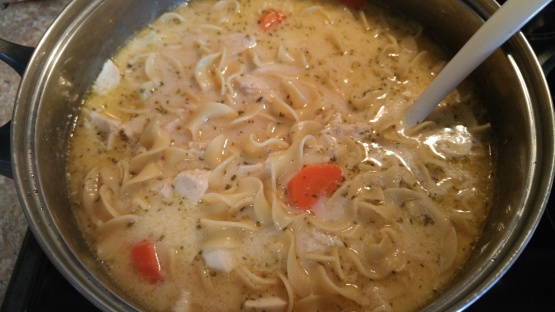 I love this soup. Very rich and creamy. I serve it with biscuits and honey. My kids even like the leftovers for breakfast the next morning. I actually like to add the chicken and vegetables first before the noodles and cook for an hour or so, then add the cream mix and noodles and simmer on the back of the stove for a couple of hours. I love having the smell of the soup cooking all day.

This is an excellent chicken noodle soup recipe. I did not add the celery (personal taste) and I used evaporated milk instead of whipping cream as some others suggested. Other than that I followed the recipe exactly. Served with crusty French bread.
Combine 1 cup broth and butter in small saucepan.
Bring to boil over high heat.
Continue to boil until liquid is reduced to 1/4 cup and has a syrupy consistency, about 15-20 minutes.
Stir in cream.
Set aside.
Bring remaining 12 cups broth to a boil in Dutch oven.
Add egg noodles and celery; cook until noodles are tender.
Stir in reserved cream mixture; add chicken.
Season to taste with salt and pepper, add parsley.
Heat just to serving temperature.
Do not boil.