loof751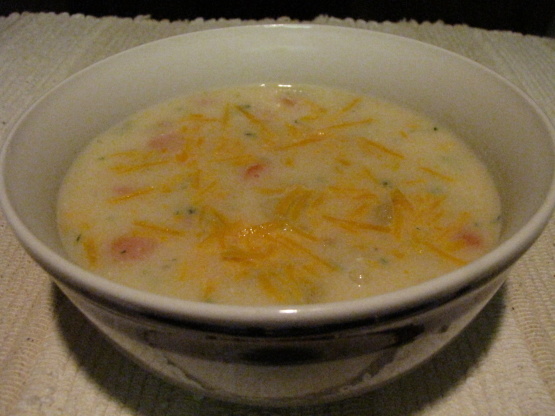 I had to post this because it is one of my daughter's favorite meals. We top it with shredded cheese, and have yeast rolls on the side. It isn't spicy, so most kids like it. This recipe came from "Now You're Cookin" Cookbook.

Made it for my DDs,both down with a cold and both with no appetite, but none complained when I was feeding them. I chopped everything up in the mixer and I left out the salt (the youngest one is 9 months old).Added the sour cream just before serving as I wanted some soup without. For me the butter is what makes the soup. Thanks for this , I'll be making it a lot for my DDs.
Saute onion in butter in a Dutch oven over medium heat; stirring constantly, until tender.
Dissolve bouillon cubes in boiling water. Add bouillon and broth to dutch oven. Bring to a boil. Add potato; cover, reduce heat and simmer for 15 minutes.
Stir in carrot, salt, and pepper; cover and simmer 15 minutes or until potato is tender.
Combine flour and 2 tbsp cooking liquid, stirring with a wire whisk until smooth. Stir flour mixture into soup mixture; cook, stirring constantly, until thickened and bubbly. Reduce heat to low, stir in sour cream and parsley. Cook just until thoroughly heated.
Serve in individual bowls. Top with cheese.