Cheesy Ham and Potato Soup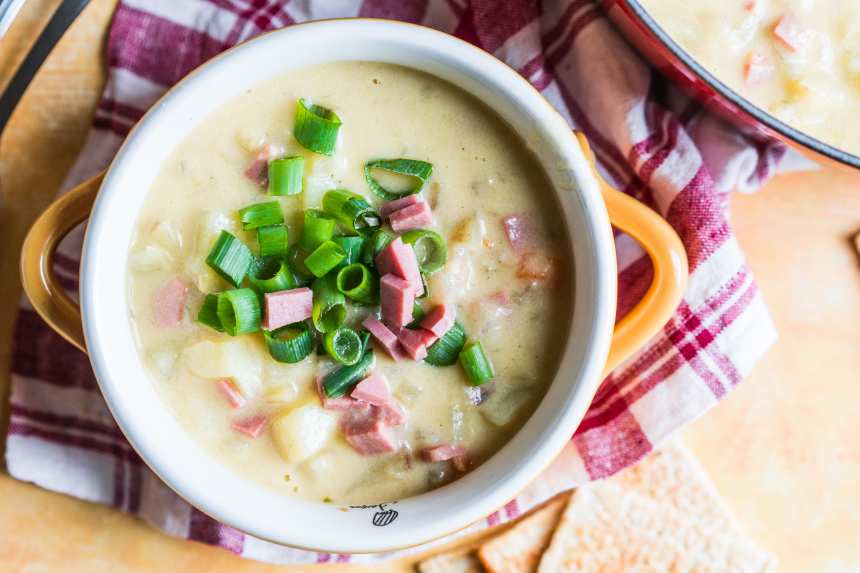 photo by alenafoodphoto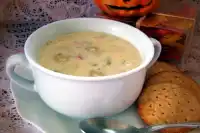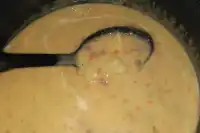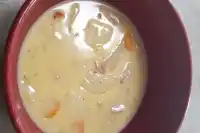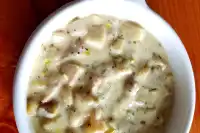 Ready In:

30mins

Ingredients:

13
directions
Combine potatoes, celery, carrots, onion, ham, and water/broth in stockpot and bring to boil.
Then cook over medium heat until potatoes are tender.
Stir in the chicken bouillon, salt (if using), and pepper.
In separate saucepan, melt butter over medium-low heat. Whisk in flour and cook stirring constantly until thick.
Slowly stir in milk as not to allow lumps to form and all milk is added. Turn up to medium heat. Continue to stir until thick (4-5 minutes).
Add in cheese and stir until melted.
Stir the cheese mixture into the stockpot and cook until heated through. (I also will break up some of the potatoes for thickness. It gets thicker as it cools and next day).
Reviews
My kids aren't done eating this and I must rate it. I have the most picky 5 and 9 year old children in existence. My 5 year old had a second helping and my 9 year old is finishing his. They both like it. It was super easy. I made with homemade chicken stock as I had some I needed to use up. I also added some carrots as I had some already diced. It is very good. I think it will replace my usual potato soup.

 

I made this for dinner tonight. It was wonderful! I doubled the recipe as I have hungry people in my house. I'm also using this for my soupswap on Thursday! I too did not peel the potatoes, used 2 Cups onion and celery, and did not thicken it with anything. I mashed the soup with a potato masher about 5 times to break some potatoes up before adding the ham, which I added after the potatoes were soft. Instead of milk I used nonfat half and half. As I write this I am craving more...that's how good it is!

 

WOWOWOW Love this soup. I made a couple of slight changes....Started with 1/2 lb pepper cracked amish bacon and the 1 1/2 cups left over ham cooking in pot with a bit of olive oil. After the bacon sweated a bit - I took the ham / bacon mixture out. I then added all of the veggies (plus lots of extra of each) and got the brown bits off the bottom of the pan. Added the water and followed the recipe....except used whole milk instead of 1/2 and 1/2 and used 2 C light cheese. I ended up needing about 3/4 C more milk b/c of all of the veggies. The soup was still quite thick and excellent. YUM. Thanks UPDATE: just made this again - added a ham hock to the broth as the potatoes cooked - and the flavor is great. Added a couple carrots to the veg too! Used the immersion blender to puree a bit as well. Sooooo goood!

 
Tweaks
Knocked this one out this afternoon when I discovered a bunch of leftover ham in freezer. No doubt this is a winner as-is. That said, my tweaks (based on a double-ish batch...no way the original quantities cover a couple hungry teenagers): -5-6c diced potatoes...reserve 1-1.5c to cook up separately and add via ricer for thickness -7-8c chix broth (i.e. whatever was in the freezer from the last time I cooked down a bird) -we're not celery people -1-2c fresh chopped mushrooms (half a pack of baby bellas left over from my crockpot pheasant adventure last night) -3-4c ham -1TB coarse cracked pepper -6TB butter -2/3c flour split 50/50 for the roux and later thickening direct to the soup -3-3.5c cheese (I like the idea of something sharper for taste as another cook noted...but I'm happy to use whatever is on hand) -half an onion, diced. next time I'm going to cut the pepper 50/50 with cayenne now that I see ChowhoundPC's tweak in that direction...just for fun. No changes to process. Yum! Son better get home from his baseball game quick...

 

Great, savoury soup! Made 1/2 recipe, skipped the celery, skimped on the cheese a bit since I was using strong, old Gouda; used bouillion cubes instead of granules - substitution charts say 1 ts of granules equals 1 bouillion cube, and this was certainly not true for me! I used 2 cubes for 1/2 recipe, and I think 1 cube plus a sprinkling of salt would be just right; and I like my salt, I assure you! 1/2 recipe also made more like 3 servings for me. Still, the soup turned out simply delectable: smooth, chunky, savoury, creamy - all tasty things in one! Thank you for a lovely recipe SweetsLady - this will be repeated!

 
RECIPE SUBMITTED BY
I am married to a military man for?25 years. We've lived in Illinois, Kansas, Japan, North Carolina, New Mexico, Spain, and Washington state. I grew up a military brat, too, and have lived in Kentucky, Florida, Maine, Germany, Holland, and South Carolina. I am now a SAHM of 2 children. I love to make and try new recipes. My mom was the one that primarily taught me how to cook and then I have taught myself to cook various other things via trial and error. I love sharing with others how to cook and ideas. :) I am an active part of our church - teaching SONday school, singing in choir, etc. I wouldn't be here if it weren't for my Lord and Savior Jesus Christ. He is my Rock and Salvation. I praise God for all that He has done for me. I love to meet new friends and enjoy talking about cooking, kids, etc. So feel free to drop me a Zmail! :)
View Full Profile