Coleslaw With Peanuts and Raisins
Debbwl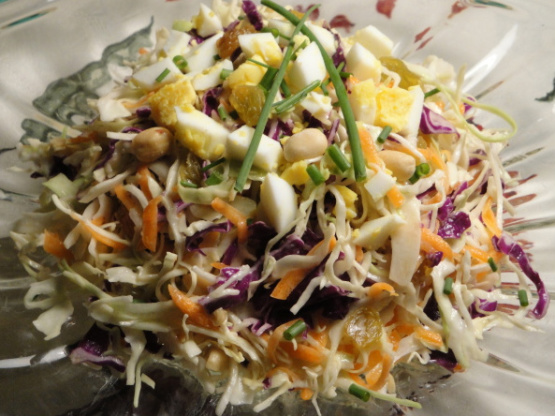 Recipe from California Raisins website. . .by Chef Roy Harland. It states that you can substitute 1 lb of coleslaw mix for the green cabbage, red cabbage and carrots. They suggest serving this with BBQ. WOW this is good stuff!!! Note that I only used half of the dressing for 1 lb of coleslaw, so you may want to cut the recipe in half so as not to be wasteful!
Make the dressing by combining the vinegar and sugar in a small mixing bowl.
Stir in the mayonnaise, celery seed and horseradish.
Season to taste with salt and pepper.
(Be sure sugar is dissolved before serving.).
Toss the cabbages, carrots, raisins and peanuts in a large mixing bowl with desired amount of dressing.
Season to taste with salt and pepper.
Arrange in a serving bowl and garnish with the chopped eggs and chives.