Peter J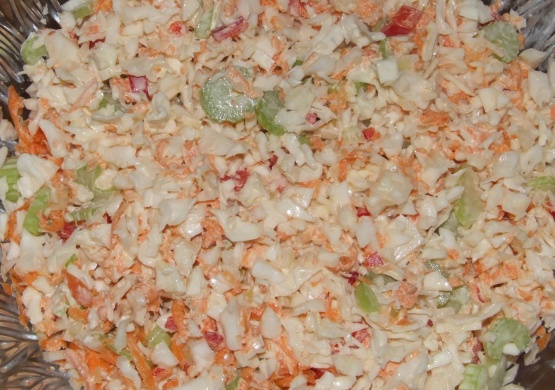 This is a coleslaw that I stole from a junior cook book that was once given to me as a young'in. Please Note: As an alternative, ready-made coleslaw dressings are available in bottles from your local supermarket to make it easy for you.
Using a large sharp knife, finely shred the cabbage and place it in a large bowl.
Grate the carrots on the large side of a grater. Finely chop the celery sticks.
Add the onion, red pepper, grated carrot and chopped celery to the cabbage. Toss well to combine.
To make the dressing, whisk together the mayonnaise, vinegar and mustard in a bowl. Season with salt and pepper. Add to the cabbage mixture and toss well to combine. Serve.