Cold Shrimp Salad With Capers and Dill
gertc96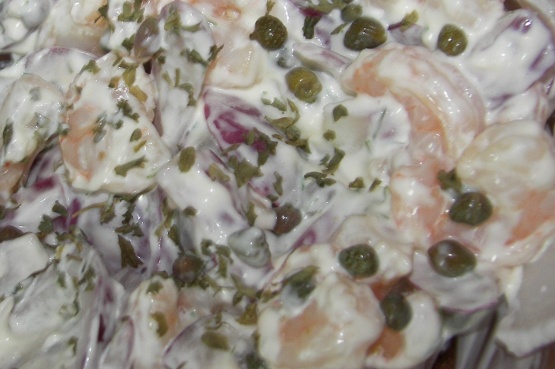 If you can only have one shrimp salad recipe, this could be it. ;) I love the herby mayonnaise with capers and jalapenos! It makes a terrific dressing for the shrimp. Adapted from Simply Shrimp: With 80 Globally Inspired Recipes by James Peterson. (Cook time does not include time to cool the shrimp.)

This was very good! Simple to put together, impressive on the plate, and very fast. I'd be happy to serve this as a starter for a summer dinner party, or for a light lunch. I had to make a couple of changes due to what I had on hand, but I don't think they changed the recipe much. First- I had frozen cooked shrimp on hand, so instead of sauteing, I omitted the olive oil and added the very finely minced garlic into the dressing. Second, I used shallot instead of onion, which worked perfectly since I cut the recipe down to serve one. Third- I didn't have jalapeno, so I added a dash of chili flake to the dressing for a mild kick. As other reviewers said, I just loved the dressing. Dill is one of my favorite fresh herbs, and it goes beautifully with the bright, fresh taste of shrimp. I'd add more capers next time, but that's just because I adore capers- for most people, the amount called for will be perfect. Thanks for a nice summer treat!
Heat oil in a large, heavy skillet over high heat.
Add shrimp and saute until done.
Reduce heat to low, add garlic and stir and cook about 30 seconds or until fragrant.
Cool and refrigerate at least 1 hour.
Combine onion and salt in a colander; let stand 15 minutes or until wilted. Rinse and dry with paper towels.
Whisk mayonnaise and remaining ingredients in a large bowl.
Add shrimp and onion; mix to coat shrimp with dressing.