KateL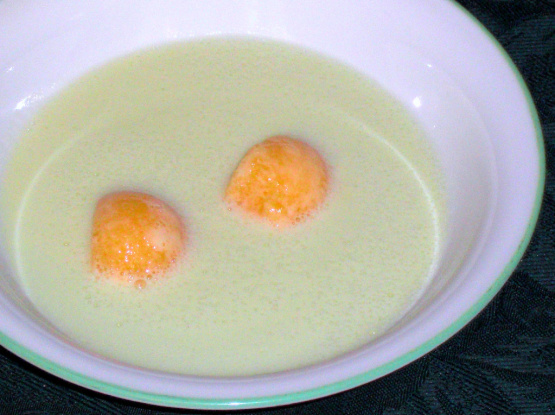 Many different types of melons can be used in this cool, fresh soup, however, honeydew melons defnitely are the best.

Delicious! I did eyeball the honeydew (used a whole honeydew, instead of measuring, but it was close) and used plain yogurt instead of vanilla, but otherwise kept it exact. It was AMAZING! I would never have believed that things I eat all the time taste SO SO SO good combined. This will now be a regular summer family recipe. Thanks!
4

cups ripe honeydews, cut into small balls

4

teaspoons lime juice

2

teaspoons honey

1

cup nonfat vanilla yogurt
1⁄2 cup honeydew balls (to garnish)
In a blender container, combine honeydew, lime juice, and honey. Blend until smooth. Pour into a bowl and add yogurt.
Beat with a fork or wire whisk until blended.
Chill several hours.
Serve cold.
Whisk before serving and garnish each bowl with a few melon balls.
NOTE: chilling time not included with prep time.