sharda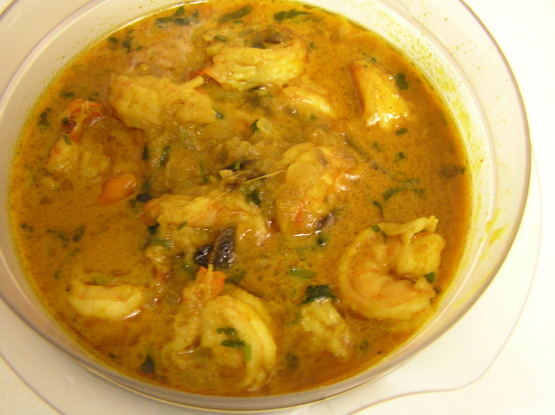 A very tasty coconut ahrimp.

This was a big hit with my family. For the gravy, I used 3/4 cup coconut milk and 3/4 cup water, and served over rice cooked in fresh ginger and coconut milk. The flavor was great, and it was a cinch to make. I know we will be enjoying this often. Thank for a great recipe!
Devein and clean the shrimp.
wash it and pat it dry with paper towel.
Mix 2 teaspoon salt, turmeric and lemon juice.
Leave it to marinate for about 1/2 an hour.
In a wok or frying pan (avoid non stick) heat the oil.
In the oil fry the minced onions, garlic, ginger paste, cumin, coriander, mustard seed powder, 1 teaspoon salt and chili. Fry for 3-4 minutes.
Add coconut paste and tomatoes. Keep stirring till the spices look separated from the oil (about 2-3 minutes).
Add the water. If you want thick gravy you can add less water.
Once the gravy start boiling, drop in the shrimp (throw away the marinade) and boil on low medium heat for 10 minutes. Turn off the heat.
Do not overcook the shrimp, otherwise it will become very chewy.
Garnish it with fresh coriander leaves and serve with steamed rice.