Classic Creamy Coleslaw Dressing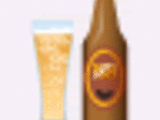 I use this on bagged broccoli slaw (2 lbs) and the ratio of slaw to dressing is perfect. I believe I got this from Martha Stewart's little food magazine a while back.
Directions
Whisk together mustard, vinegar, lemon juice, sugar, salt, mayonnaise, and sour cream in a small bowl.
Refrigerate dressing, covered, until ready to use, or up to 2 days.
Most Helpful
Fantastic! The only change I made was the addition of a sprinkle of garlic powder. This was a huge hit with everyone.
I added more sugar and Honey and 1 package of Dole pre-cut cabbage with carrots

Fantastic! I just made this, did not have tarragon vinegar, so I used dried tarragon leaves and cider vinegar. I also added quite a bit more sugar, Was not quite sweet enough to our liking. To me, the sour cream was what really gave it the taste and creamy texture. Never thought of using it in slaw dressing, but will definitely will again! Otherwise, didn't change a thing! Will positively save this recipe and make again! Delicious!