Classic Creamy Coleslaw Dressing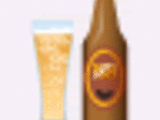 I use this on bagged broccoli slaw (2 lbs) and the ratio of slaw to dressing is perfect. I believe I got this from Martha Stewart's little food magazine a while back.
Directions
Whisk together mustard, vinegar, lemon juice, sugar, salt, mayonnaise, and sour cream in a small bowl.
Refrigerate dressing, covered, until ready to use, or up to 2 days.