Prep 10 mins
Cook 10 mins
This recipe was found on a C & H sugar box. If you need a sweet-tooth fix, this will do it. Great with a spot of tea!
Directions
Cream butter and sugar until light and fluffy.
Add egg and beat well.
Combine flour with baking powder and salt.
Add to creamed mixture and mix well.
Drop onto greased cookie sheet in marble-sized balls.
Press flat with bottom of greased glass dipped in the sugar-cinnamon mixture.
Bake in 350°F oven 10 minutes.
Remove from cookie sheet and cool.
Most Helpful
best cookie I have ever made...love crispy cookies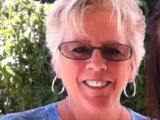 This is probably the first cookie I ever made. I found it on the back of a bag of C&H Sugar and still have the scrap of bag with this recipe. This is an outstanding crisp little cinnamon flavored butter cookie. I still love them.
Yummy cookies that are simple and easy to make!