Faux Wheat Thins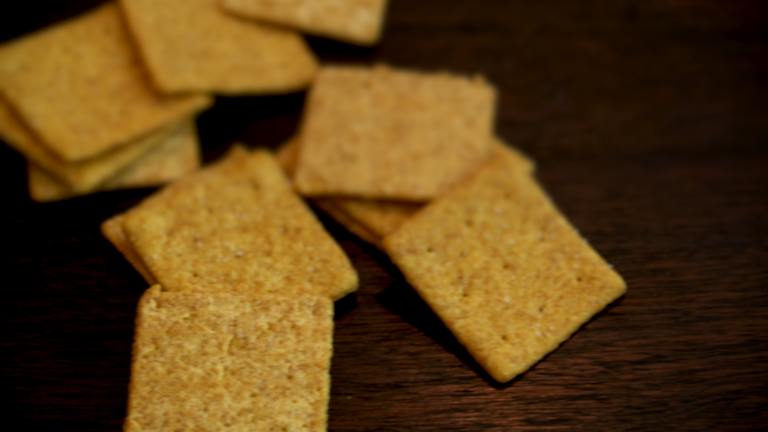 Ready In:

35mins

Yields:

Units:
directions
Preheat oven to 425 degrees.
In food processor, blend flours, sugar, salt and spices.
Whisk oil and water together in separate bowl until emulsified.
With processor running, slowly add oil and water to flour mixture until it comes together in smooth ball.
Divide dough in half and roll each piece out on lightly floured surface into rectangle about 12 inches by 14 inches or the size of your largest cookie sheet and about 1/16 inch thick, the thinner the better.
Transfer dough to cookie sheet by draping it over your rolling pin.
Don't worry if it gets distorted.
Using long, sharp knife, trim dough into neat rectangle and score into 1 1/2-inch squares, being careful not to cut all the way through.
Prick each square 3 times with fork and sprinkle with kosher or freshly ground sea salt to your taste.
Place cookie sheet in center of preheated oven and bake about 8 minutes or until edges have started to brown and blisters are forming on top surface.
Remove from oven and loosen crackers with large spatula before flipping whole sheet of crackers over in one piece.
It is helpful to use another cookie sheet to do this, placing it over the baking sheet and then turning both over before sliding crackers back onto the original baking sheet.
Return crackers to oven and bake 6 to 7 minutes more, until edges are well-browned.
If outer edges brown first, snap them off and return rest of crackers to oven.
Although you don't want to burn the crackers, they need to be nicely browned all over to be crisp.
Slide sheet of crackers onto rack to cool.
When cool, break apart at scored lines.
Store in airtight container a tin works best.
Submit a Recipe Correction
Great recipe, but the second time I made them I changed a few things I guess you could say and they came out a lot easier. I mixed the dry then wet ingredients by hand, no food processor. Also I rolled the crackers out on a baking sheet then scored them, so no messy transfer. Baked at 350 for about 18 minutes in bacthes without flipping, even less mess. All and all a good recipe, and tastes just like wheat thins!