Cinnamon Maple Macadamias
alligirl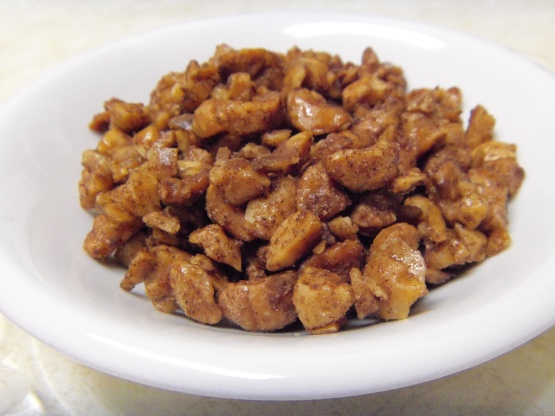 From Justine Schofield hostess/cook of Everyday Gourmet and she suggested that this would be lovely sprinkled over your breakfast cereal or as a topping for yogurt or porridge. For dietary reasons I would use sugar free maple syrup to make it diabetic friendly.

Easy and delicious. This would make a great gift during the holidays. Love the cinnamon! Thanks, I'mPat. Made for Aussie Kiwi Recipe Swap #74.
Preheat oven to 180°C.
Toss the nuts with the cinnamon and spread on a baking tray and bake until lightly golden and fragrant, about 20 to 25 minutes.
Pour the maple syrup over the nuts and stir to combine and bake for 5 minutes more and then cool on the tray.
Store in an airtight container.