j1m404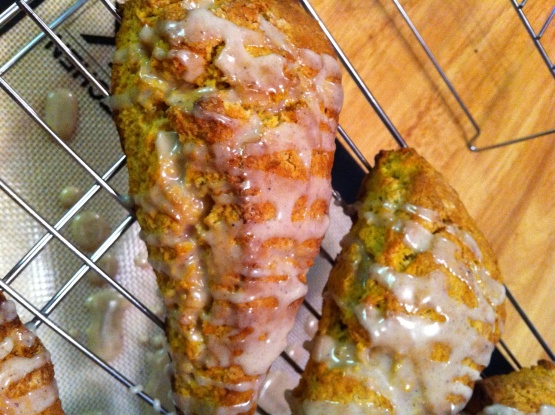 This is a simple, delicious scone recipe that works well using a mixer or a food processor.

Awesome recipe. Every time I make these they go fast. Instead of patting the dough into one single round, I pat it into two smaller ones, cutting each round into 8 wedges and only bake them for 12 minutes. This works great because then there are more to go around. Also if you don't have buttermilk on hand or don't like using it, like me, you can use sour milk. In your measuring cup pour in about 1 1/2 to 2 tsp of white vinegar and then add the milk up to the 3/4 cup line.
Preheat oven to 375°F
Combine flour, baking powder, baking soda, salt, and sugar in mixing bowl. Add butter slowly, mixing well.
In a seperate bowl, combine egg yolk, vanilla, and buttermilk. Add to dry ingredients, mixing completely. Stir in cinnamon chips.
On a floured surface, roll out dough (with hands only) to 1/2" thickness. Cut into scones, place on ungreased cooking sheet. Brush egg white over scones and sprinkle cinnamon sugar over scones. Bake 18 minutes.
Cool scones 5 minutes, move to plate and cover until completely cool.