Cinnamon Chicken With Couscous and Dried Fruit
Nasseh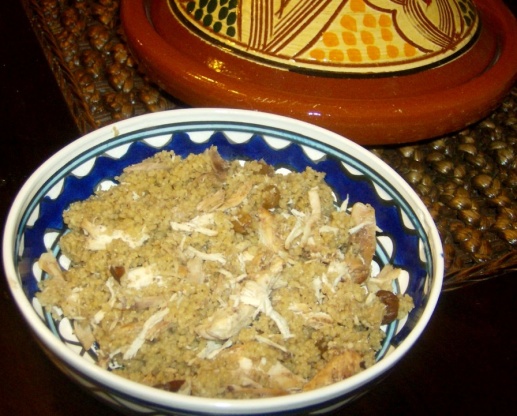 I recently discovered this on Epicurious and I'm in love! I think I could have this every night for a week. It's easy and fast enough to do when you get home from work too. I have been having it with some peas to add some green to the plate and iced mint tea. I am posting the original recipe but here are the comments of another user. I have been useing these recomendations: "Natalie from San Francisco, CA on 05/23/06 I love this recipe. One change I make is to use chicken thighs only, cook (boil in stock or saute) until they are about 95% done and then shred them when cool. I add the chicken at the last minute with the other ingredients so it finishes cooking in a couple of minutes. I find the dish is quicker, uses less oil and the spices get more evenly distributed. I usually use a sweeter dried fruit, like prunes or raisins, and a tart fruit, like apricots or cranberries. I've also made this dish with the larger size couscous (could be harder to find) as well as the traditional couscous and I find that the texture of the larger couscous is a nice addition."
Preheat oven to 375°F
Sprinkle chicken with salt, pepper, 1 teaspoon cinnamon, and 1/2 teaspoon ginger.
Heat oil in large ovenproof skillet over medium-high heat. Add chicken pieces, skin side down, and cook until skin is brown, about 8 minutes.
Turn chicken and transfer skillet to oven.
Roast chicken until thermometer inserted into thickest part of thigh registers 175°F, about 15 minutes.
Transfer chicken to plate; tent with foil.
Add onion to drippings in same skillet; sauté onion over medium-high heat until beginning to brown, about 5 minutes. Add dried fruit and remaining 1 teaspoon cinnamon and 1/2 teaspoon ginger; stir to coat. Add broth; bring to boil.
Remove skillet from heat, stir in couscous and 1 teaspoon mint.
Cover and let stand 5 minutes. Season couscous to taste with salt and pepper.
Mound couscous on platter; place chicken atop couscous.
Sprinkle with 1 teaspoon mint and serve.