Cinnamon and Coffee Cheesecake
diner524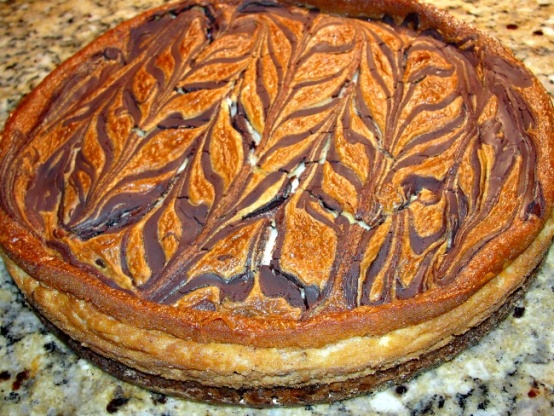 From *A Gourmet Book of Tea and Coffee* by Lesley Mackley, this dessert is so easy-to-fix & so good that it almost has to be made & tasted to be believed. Cheesecakes are rich & I love them, but I find it annoying that they are usually too sweet, too heavy & too large. This cheesecake is less sweet, lighter in texture & more appropriately sized as it is baked in an 8-in rd spring-form cake tin. I modified the butter & sugar amts slightly & gave both US & metric measurements as the recipe did. (Time does not include cooling or chilling under refrigeration time) *Enjoy* !

I've spent this morning baking, can you think of anything better when everything is white outside? One of the results is this amazing and totally decadent cheesecake which can be best described with 3 letters: O.M.G.! This fabulous creation came out to perfection with no sunken center and a good release from the pan. Yes, this is rich tasting, I used Splenda for the sugar and 95% fat free cream cheese but you would never know that it was trimmed back in any way (and neither would anyone else). For my own protection, when cooled, I cut 16 slices and put 15 of them into the freezer where I'm able to keep my hands off of them and have just a single slice on occasion (DH doesn't care for cheesecake). This would be ideal for any celebration or just because you would like to have something wonderful in the freezer. If you really want to guild the lily may I suggest a good drizzle of caramel sauce and a candied pecan on top? (remember the O.M.G. up top?). With or without guiding suggestion if you enjoy cheesecake, coffee and cinnamon you just cannot go wrong with this Food of the God's. Twiss I'd get down on my knees and say thank you but at my age I might not make it back up so this will have to do: THANK YOU!!!!!!!!!!!
Preheat oven to 180C (350F or Gas 4). Grease a 20 cm (8-in) rd spring-form cake tin & set aside.
FOR BASE ~ Using a blender or magic bullet, crush the cookies to a fine crumb texture & combine w/melted butter in a bowl. Using the curved side of a lrg tbsp, press the mixture evenly onto the base of the prepared tin & chill while preparing the filling.
FOR FILLING ~ Beat the cream cheese & cream in a bowl. Add eggs, flour, sugar, coffee & cinnamon. Beat together thoroughly & pour onto the cookie base.
Melt chocolate in a bowl over a pan of hot water. Drizzle the melted chocolate over the top of the cheesecake. Using the handle of a tsp, swirl the chocolate over the surface of the cheesecake to create a marbled effect.
Bake for 50-60 min till firm. Leave to cool slowly in the oven w/the door ajar. When cooled, carefully release sides of spring-form tin & chill for at least 2 hrs b4 serving.
NOTE #1: *DO NOT USE* a moist variety choc chip cookie for the base. I used a commercially bought pkg of the crunchy type & they were perfect for the base. A softer cookie will make the base too buttery & soft.
NOTE #2: I did not have the right size spring-form pan, so I made mine in a 9-in pie plate but do not recommend this unless you are able to use a deep-dish pie plate of that size. I still had filling left after pouring it onto the base & up to 3/4-in from the rim, so I put the balance of filling in 2 ramekins.
NOTE #3: The base & filling are both very quick & easy fixes, but I honestly found the marbling effect on the surface tedious for what it contributed. Choc is wonderful w/coffee, cinnamon & this cheesecake ~ but frankly a thin stream of choc syrup will do equally well for the taste & presentation.