flower7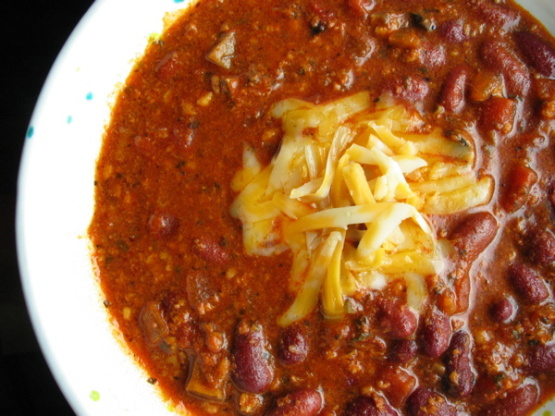 When I first got married my husband didn't like the chili I made (my mom's recipe), so I have changed it until I found what he likes. Now he LOVES it. About and two hours before it's done, I add cheese hot dogs to the crock pot--it does change the taste slightly, but he loves to eat chili hot dogs on butter poppy seed rolls. But if you don't like hot dogs, don't add them. I also use 1 can each of light red and dark red kidney beans for color, but you can use two cans of the same if you want. ENJOY!

This is yummy! I followed the recipe pretty closely but was a little confused by the herbs - dry or fresh? I used dry but only used 2 tsp of each. I used portobello mushroom (and no hot dogs). The other confusion I had was knowing whether to cook on low or high. I cooked on low but only stirred it once halfway through and once near the end. Served with shredded cheddar-jack cheese and crackers; a little sour cream would be good too (but I was out). Thanks for the recipe!
cook chorizo breaking it up. drain. add all to crockpot cook at least 6 hours, stirring every so often.
optional: two hours until done add hotdogs( your choice) serve with favorite rolls.