Chorizo, Chickpea & Banana Stew
rpgaymer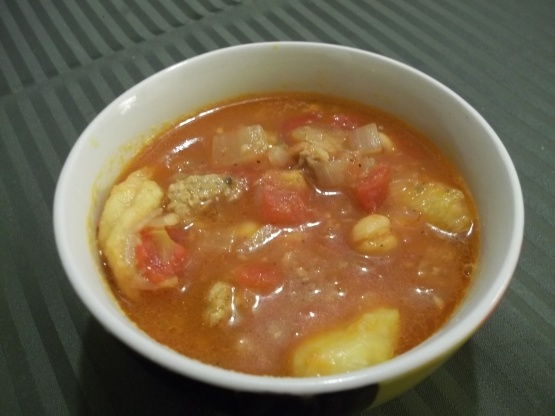 This is a unique-tasting stew that's packed with flavor. You can use plantains instead of bananas, but they need to be cooked a bit longer. I make my own lean turkey chorizo for this, but any chorizo will do. If you're unconcerned about calories, serve this with some additional fried bananas - yum!

This definitely is a very unique and tasty stew. Sometimes you really need to take a culinary leap outside the box and try something, that to you, may not seem to fit together -- and you just might find that you are pleasantly surprised. We definitely were and the result was a really nice blend of flavors that complimented each other really well. Thanks for posting this recipe. I will certainly make it again. Made for PRMR, January, 2013.
Heat the oil in a large pan over medium-high heat. Stir in the onion, garlic and ginger and fry for 2-3 minutes. Add the chorizo and brown the meat for a further 2-3 minutes. Drain off any excess fat if desired.
Add the tomatoes and stock, stir, and bring to a boil. Lower heat, cover, and simmer gently for 30 minutes.
Add the chickpeas and bananas to the stew and cook for a further 5 minutes, or until the bananas are just starting to fall apart. Season with a salt & pepper and serve garnished with cilantro.