Chocolate Harvest Nut Pie
alligirl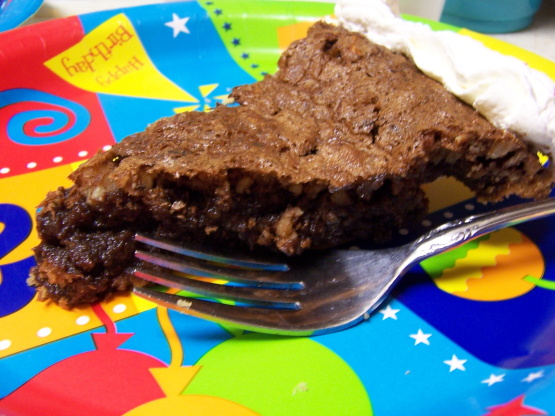 This recipe was found in the Dec 2006 cookbooklet, Best Recipes, Hershey's Holiday Favorites! Preparation time does not include time for pie to cool completely!

This is a dream of a chocolate nut pie :) I made a gluten free pie crust and reduced sugar and syrup: 1/4 cup brown sugar and 1/2 cup honey (I don't use corn syrup) - personal preference, I just don't like it very sweet. It didn't seem to affect the texture because the pie came out perfect, and the taste was fantastic. Thanks for posting!
Made for Went To The Market.
Preheat oven to 350 degrees F.
In a medium bowl, carefully whisk together brown sugar, cocoa & salt, then add corn syrup, eggs, butter & vanilla, stirring until well blended.
Stir in pecans, walnuts & almonds, then pour into unbaked pie crust.
Cover edge of pie with foil to prevent overbrowning of the crust, then bake 30 minutes.
Remove foil & bake another 25 to 30 minutes or until puffed across the top.
Remove from oven & cool completely on a wire rack.
If desired, top with whipped topping & additional nuts. Cover leftovers & store in refrigerator.