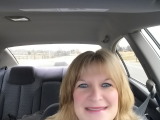 This is so creamy and delicious. When we have work functions, I am always asked to bring this again and again.
Directions
Mix pudding, powdered sugar and milk together with electric mixer; about 2 minutes on low speed.
Fold Cool Whip into pudding mixture; set aside.
Lightly grease bottom of 13x9 inch baking pan with oil.
Line bottom of pan with whole graham crackers (sometimes you have to break apart to make fit).
Pour 1/2 pudding mixture over crackers.
Put another layer of crackers, then another layer of remaining pudding.
Finish with another layer of crackers.
Ice with chocolate icing and refrigerate.
Most Helpful
There are a few variations of this recipe and this version is very good. The powdered sugar makes it taste even more like an eclair. If you've never tried Eclair Cake, make one today. The ingredients recipe are rather simple, but combined, they make one heck of a good dessert and it really does taste reminiscent of an eclair. I made this recipe using Duncan Hines Chocolate Buttercream Frosting (not lite) and it was out of this world.
I've also made a variation on this yummy dessert..It really is like eating a chocolate eclair! You could try French Vanilla pudding too!Also, my recipe calls for the "cake" to set overnight to allow the graham crackers to soften for easier cutting.