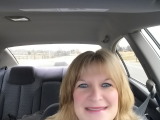 This is so creamy and delicious. When we have work functions, I am always asked to bring this again and again.
Directions
Mix pudding, powdered sugar and milk together with electric mixer; about 2 minutes on low speed.
Fold Cool Whip into pudding mixture; set aside.
Lightly grease bottom of 13x9 inch baking pan with oil.
Line bottom of pan with whole graham crackers (sometimes you have to break apart to make fit).
Pour 1/2 pudding mixture over crackers.
Put another layer of crackers, then another layer of remaining pudding.
Finish with another layer of crackers.
Ice with chocolate icing and refrigerate.