Brenda.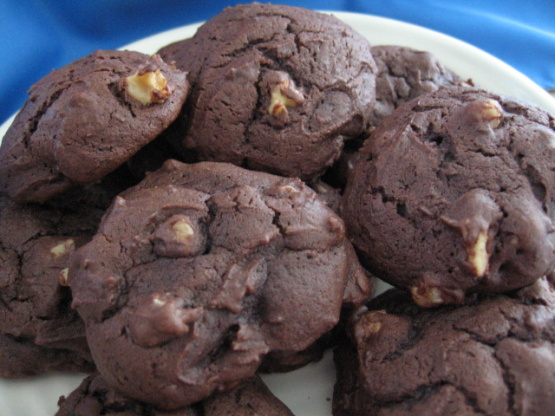 These were cookies my aunt made all the time when I was little--worth the wait and very good! I have never made them with nuts, but I'm sure they are good with them also.

These cookies are superb! My family loved how chocolatey and soft they were. I mixed 3/4 cup chopped walnuts into the batter, which tasted great. I dropped them by teaspoonfuls, which made 4 dozen cookies. I will definitely make these again, and plan to try mixing other things in for a different taste. Thank you for sharing your recipe!
Mix shortening, sugar and egg.
Stir in sour milk and vanilla.
Sift together flour, soda, salt and cocoa; stir.
Add nuts.
Chill 1 hour.
Heat oven to 375°F.
Drop by spoonfuls on greased cookie sheet.
Bake 8-10 minutes.
• Note: You can use plain milk with 1 tbsp vinegar to sour it. Works as well as the sour milk.