Helena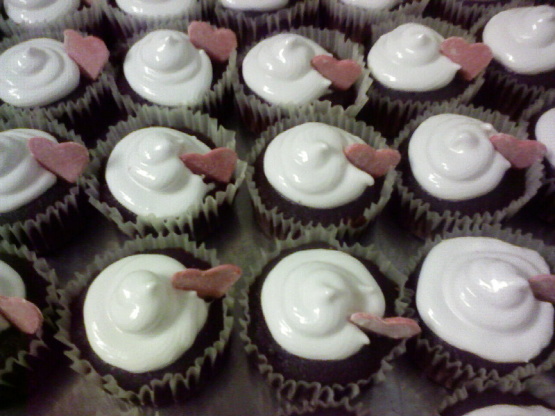 I always bake these for functions and make cupcake towers.. school ordered these from me to sell for valentines day.. the children actually had big fights about whos going to buy the last ones.. some were then sold at 4x the price hehe had a laugh when they told me the story.. I always frost it with 7 minute or american frosting.. This frosting is anyway much cheaper than using icing sugar.. The recipe is actually for 12 cupcakes, but I ussualy get about 10 big cupcakes.

Okay I didn't realize until I was just about to put these in the oven that this recipe didn't include the oven temp. I have never baked cupcakes before, so I thought I'd take a chance and attempt these at 350 F. I checked a couple other chocolate cupcake recipes, one which used 375 and another 350, so I felt confident about 350. I made half a recipe, used Smart Balance with Flaxseed Oil Spread for the unsalted butter, and used 1/8 cup Eggbeaters. Followed the rest of the recipe exactly. I got 5 average-sized cupcakes. 17 mins was perfect at 350 F; I did the toothpick-test as well as testing the tops to feel that they bounced back, as instructed. I decided to use recipe #155392, which made these absolutely divine. To be fair, I ate one plain also. Very good cupcake! Perfect chocolate flavor, light in texture and addictive! I can see why these are a favorite for so many. Made for My-3-Chefs June 2008, for my "All By Myself" theme. I love that these taste good w/o frosting, but the chocolate glaze I used put these over the top! Thanks for sharing, *Helena*!
In a small bowl add the boiling water to the cocoa slowly while stirring to prevent lumps until smooth. Let cool to room temperature.
In a bowl, sift the flour, baking powder, and salt together. Set aside.
Cream the butter and sugar until light and fluffy. Add the egg and beat until smooth. Beat in the vanilla extract. Add the flour mixture and beat until incorporated. Add the cocoa mixture and stir until smooth.
Evenly fill the muffin cups with the batter and bake for about 17-20 minutes or until risen, springy to the touch, and a toothpick inserted into a cupcake comes out clean. Remove from oven and place on a wire rack to cool.