Magnolia Bakery Chocolate Cupcakes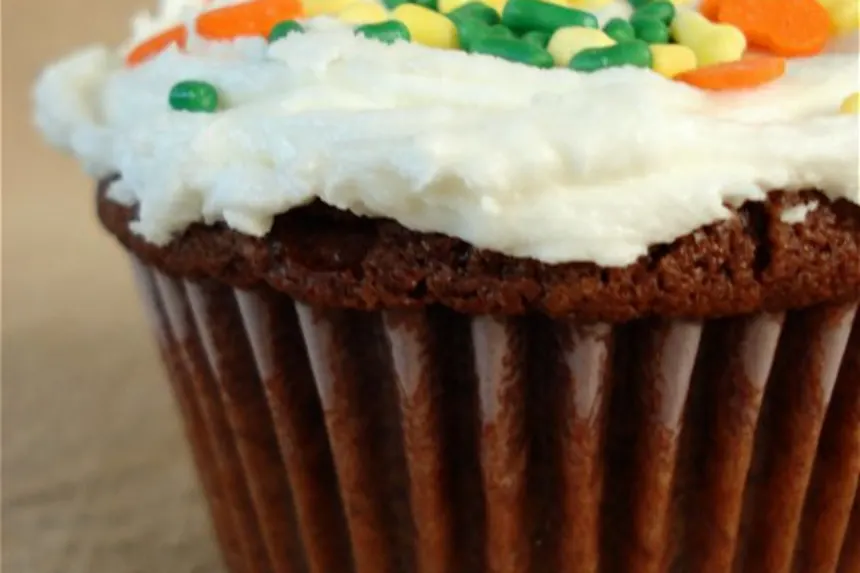 photo by Marg (CaymanDesigns)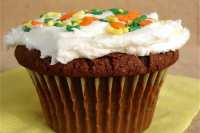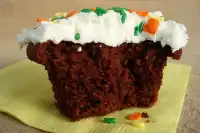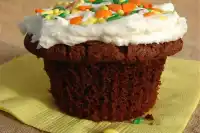 Ready In:

1hr 25mins

Ingredients:

11
directions
To melt the chocolate, place in a double boiler over simmering water on low heat for 5-10 minutes (about; stir occasionally until completely smooth and no pieces remain; remove from heat and let cool 5-15 minutes or until lukewarm.
Line two 12-cup muffin tins with cupcake papers; set aside.
In a bowl, sift the flour and baking soda together; set aside.
In a big mixing bowl, cream the butter, using an electric mixer on MEDIUM speed, until smooth.
Add the sugars and beat for about 3 minutes or until fluffy.
Add the eggs, one at a time, beat well after each addition.
Add the chocolate, mixing until well incorporated.
Add the dry ingredients, in three parts, alternating with the buttermilk and vanilla.
With each addition, beat until ingredients are incorporated but do not overmix.
Scrape down the batter from the sides of the bowl, using a rubber spatula, to make sure the ingredients are well blended and the batter is smooth.
Carefully spoon batter into cupcake liners; fill 3/4 full.
Bake in a 350° oven for 20-25 minutes or until pick comes out clean.
Cool in tins for 15 minutes.
Remove from tins and cool completely on a wire rack.
Ice when completely cool.
Questions & Replies

Got a question?
Share it with the community!
Reviews
I made these before reading previous reviews. I made them for a special occasion. Thankfully I made them the day before and had time to make something else. These were VERY dry. I followed the recipe exactly using new and fresh ingredients with the exception that I baked them for two minutes less than the recipe called for -- seems like that would have made them moister. Since the batter was a lot thicker than any cake batter I've made before, I filled the cupcake liners to the top thinking they wouldn't rise as much - they didn't even rise 1/4". I don't even know what 'tweak' would have made them edible. I frosted them with cream cheese frosting. I tried one after a couple hours and decided there was no way I could salvage them - I threw them out. I bake quite a bit and can't figure out how they could have gone so wrong for me, but more than acceptable to others, especially the review that said they are "moist".

 

Delicious! I just made half a batch of them. Yummy! Im eating one now. I think its actually really good, although I havent tried the buttercream frosting, Im eating it alone. It tastes like Cocoa Pebbles. For a homemade chocolate cupcake recipe it tastes really good. The next day or days, it will taste better. I cant imagine how good it will taste w/ frosting. Next time, I make this, Im going to add some milk choco. chips into the batter, and frost it with a homemade ganache frosting!! Thanks for this recipe. Its really nice to have on hand, you should always have a homemade choco cake recipe and a homemade vanilla cake recipe. You can of course turn any cupcake batter into a cake batter, and just cook from anywhere to 35-50 min, you just have to watch it. Thank you so much!!

 

I just made half a batch of these. It was my first time making a cupcake period and they turned out great! They were moist, came off the paper easily, and tasted wonderful! I had no trouble with the color- they were a rich deep brown. I frosted them with a different recipe for caramel cream cheese frosting and they were amazing that way! I used very basic chocolate from Baker's brand. To me, this chocolate tastes like Cocoa powder and so does the cupcake a bit so if you want a richer chocolate taste I'd take that into account- maybe a slightly sweet chocolate rather than unsweetened would do the trick? half the recipe make about 15 standard cupcakes. I filled the liners 2/3 full as others suggested. I baked them for 19-20 min. Great recipe!

 

These cupcakes released nicely from the papers without any stickiness (as others have commented). I didn't find that there was a strong chocolate flavor, which was disappointing because i used a high quality dark chocolate (i didn't offset the sugar in any way either). The texture was light, fluffy and moist. For me, regular sized cupcakes cooked by 19 minutes, mini cupcakes cooked in 10 minutes. Using "standard sized" liners filled 2/3 this recipe yeilded 24 standard cupcakes (no dome-just flat) and 30 mini cupcakes (slight dome). I would make again, but may add some sifted cocoa to the flour so that the cupcake will turn out darker (it was pretty light for a chocolate cupcake).