Chocolate Crispy Biscuits
alligirl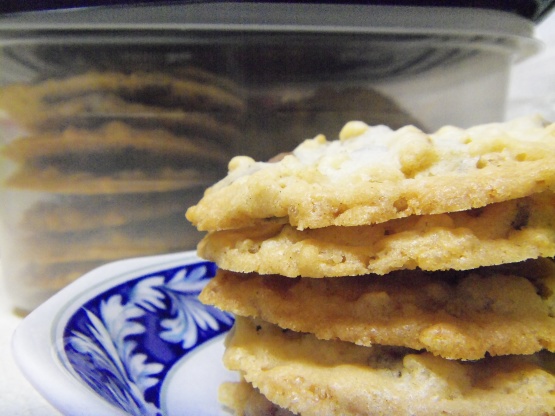 Adapted from an Australian Table magazine - very easy for kids to make and very moorish to eat.

Wonderful biscuits! Everybody LOVED it! And very easy to put together with DD's help! I personally found it a tad bit too sweet but nobody else did, but don't get me wrong, it did not stop me from munching away on these.... But I think next time I shall add in 3/4 cup and see how it goes. Thank you, Katew, for sharing this wonderful recipe, I shall definitely be making these again! Made for PAC spring 2008.
Preheat oven to 180 degrees celsius.
Line a baking tray with baking paper.
Cream butter and sugar together till pale and creamy.
Add egg and vanilla and beat till smooth.
Add remaining ingredients.
Stir till well combined.
Place heaped tablespoons of mixture on trays.
Allow room for spreading.
Bake 15 - 17 minutes, then cool for 5 minutes.
Transfer to wire rack.