Chocolate-Cinnamon Cake Roll
ReeLani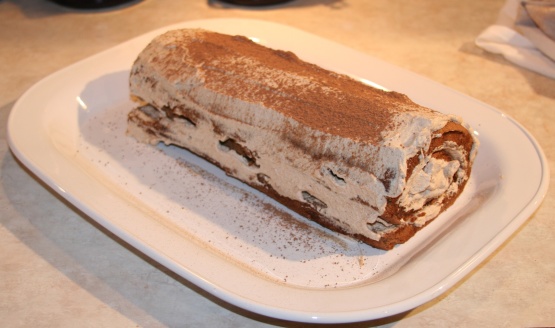 Okay, this isn't my recipe, although I do intend on making it soon. It's one of the ones I acquired when the elves were clearing out the Recipezaar account. Please tell me what it's like if you make it. At some point I'll try to sort out the ingredients. Currently, things like the coffee liqueur appear three times because they're in the cake, filling and icing.

Made this for an elegant little lunch with an old friend. This was my first time trying a rolled up cake. It's a bit of work but was fun to finally try making something like this. It's important, when cooling the rolled up cake, not to let it sit too long before unrolling to fill it. I let mine go a bit past the 30 minutes and found it was getting rather unwilling to unroll without breaking. I forged ahead however and brushed on the liqueur (the cake soaked it up rather quickly and so I used probably 2 tablespoons), spread on the cinnamon whipped cream (wonderful stuff!) and quickly rolled it back up. Then, since I had ample whipped cream left I spread it on the outside of the roll before dusting on the cocoa powder. I'm not a great fan of sponge cake, even soaked with liqueur, but we both enjoyed this. DH, as expected, didn't think it tasted chocolatey enough. I agree that the recipe would be easier to follow if the ingredient list was reordered and took some time to sort through it before I started. Overall a pleasant dessert when you want to fuss a bit for a special occasion but definitely not something to have often.
Heat the oven to 375 degrees F.
Line a jelly roll pan, 15 1/2 X 10 1/2 X 1 inch with aluminum foil or waxed paper, grease generously.
Beat the eggs in a small mixer bowl, on high speed, until thick and lemon colored, about 5 minutes; pour into a larger mixer bowl.
Gradually beat in the sugar.
Beat in the water and 1 tsp of liqueur on low speed.
Gradually add the flour, 1/4 cup of cocoa, the baking powder and salt, beating just until the batter is smooth.
Pour into the jelly roll pan.
Bake until a wooden pick inserted in the center comes out clean, about 12 to 15 minutes.
Immediately loosen cake from the edges of the pan; invert on a towel sprinkled generously with cocoa.
Carefully remove the foil.
Trim off the stiff edges of cake if necessary.
While hot, carefully roll the cake and towel up, together, from the narrow end.
Cool on a wire rack at least 30 minutes.
Unroll the cake; remove the towel.
Sprinkle 2 tb of the liqueur over the cake spread with Cinnamon Whipped Cream; roll up.
Sprinkle with cocoa, if desired and refrigerate until serving time.
CINNAMON WHIPPED CREAM:
Beat all of the ingredients in a chilled bowl until stiff.