Cake Mix Cinnamon Rolls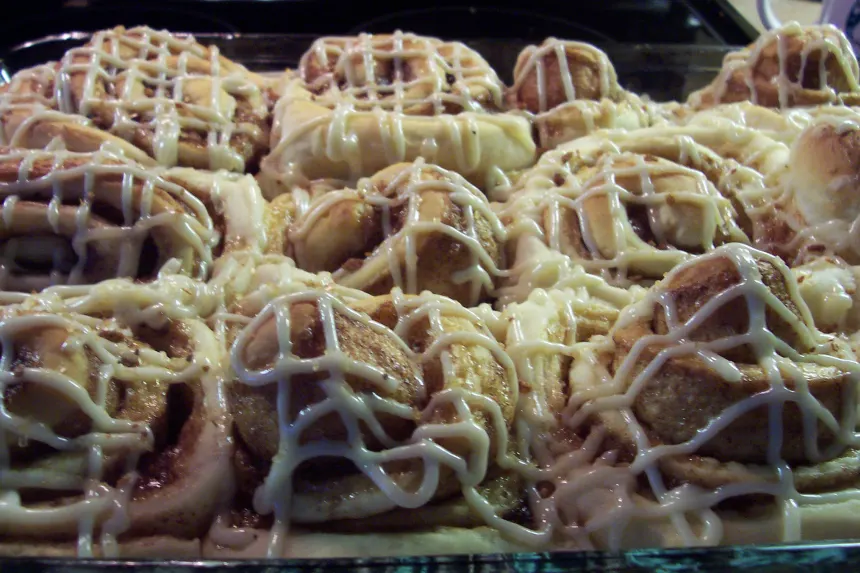 photo by um-um-good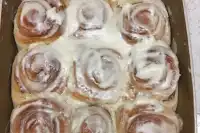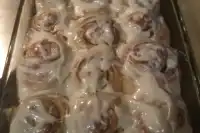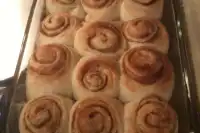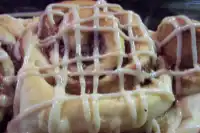 Ready In:

2hrs 15mins

Ingredients:

11

Serves:

12
directions
In a mixing bowl, combine 4 cups of flour, dry cake mix, yeast and warm water until smooth.
Add enough remaining flour to form a soft dough.
Turn onto a lightly floured surface; knead until smooth and elastic, about 5 minutes (I did this step with my Kitchen Aid Mixer).
Place in a greased bowl, turning once to grease top.
Cover and let rise until doubled, about 45 minutes.
Punch dough down.
Divide dough in half and let rest covered 10 minutes.
Turn onto a lightly floured surface.
Roll each portion into a 14 X 10 rectangle.
Brush with butter; sprinkle with cinnamon and sugar (I prefer brown sugar myself, so I used about 3/4 cup brown sugar with a teaspoon and half of cinnamon).
Roll up jellyroll style, starting with long side.
Cut each roll into 12 slices; place cut side down in two greased 13 X 9 baking pans (At this point I just kind of flatten them a bit with my hand so the middles don't raise up).
Cover and let rise until almost doubled, about 20 minutes (this is where I put them in the frig over night).
Bake at 400 for 10-15 minutes or until golden brown.
Cool for 20 minutes.
*For frosting, in a mixing bowl, cream butter, powdered sugar and vanilla.
Add enough milk to achieve desired consistency.
*I prefer a cream cheese frosting on cinnamon rolls so I changed that as well, but this works out just great.
Reviews
I make these so often, since I found this recipe 6 months ago, my friends and family ask about them constantly!! I usually give away one pan of them to a chosen lucky person - so one pan is a washed lasagne pan from Stouffers!! They have never been less than perfect and I can burn water!! Tomorrow is my daughter's 28th birthday and she want cinnamon rolls instead of a cake! Thank you for the recipe!

 

So here's what happened: I made a full recipe of these (one pan to take to my brother-in-law's and one to take to a buddy's place - both on Christmas Eve), and I refrigerated them on the last rise, took them out an hour ahead, and baked them in the morning. This worked great, and that's how I'm gonna do it from now on. I took the first pan to my brother-in-law's, and I had been saying how, though they look professional, I didn't know how they would taste, because I had never made cinnamon rolls in my entire life. Well, I am the family's resident "baker/dessert person," and generally no one listens to me when I say these things, anyway. My husband said they were disgusting and totally horrible (totally sarcastically, by the way). My 9-year-old nephew heard him and, between bites, said, "What are you TALKING about?! These are cinnamon rolls from HEAVEN, yo!" I followed the directions, exept that I used French vanilla cake mix, as mentioned in another review. As I mentioned, I did the overnight thing, described in the "About This Recipe" description, by Ridgely. Oh, I also used Ridgely's suggestion for the filling in step 10, and frosted them with cream cheese frosting (inspired by reviewer um-um-good). My whole family agreed that I should keep this cinnamon roll recipe. After all, they ARE from heaven....yo. :) Thanks!

 

OMG these were good...I made recipe as is except with instant dry yeast( didnt have my glasses on,again),I didnt have fast acting anyways and had no problems they raised to a nice size also made these with Ridgelys filling changes as stated.Next time I will use less frosting,just our preference.. .My daughter and her husband went home with a pan of rolls, just me and hubby cant eat,or at least shouldnt eat 2 dozen ourselves..So, everyone was thrilled with this recipe.. The cake mix gives these rolls a texture I just love and the flavor is great. Will definitely be making these again..Thank Your Grandmother for me...