Boomette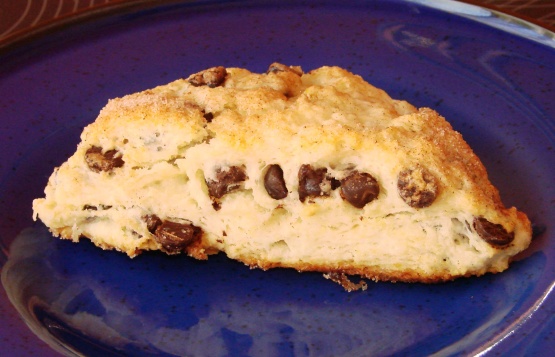 Great for breakfast, brunch, or just when you want a tasty snack. These biscuits are soft and almost cakelike and the buttermilk adds a rich undertone to the flavors.
I made the dough using my food processor. Just before adding the chocolate chips and liquid, I transfered the mixture to a large bowl. Then followed the recipe. It's great. Yummy scones full of chocolate chips. Thanks Cactuscat :) Made for Bargain Basement tag game
Preheat oven to 400 degrees. Line a baking sheet with parchment paper (a silpat works, too).
In a large bowl whisk together the flour, sugar, baking powder, baking soda, and salt.
Cut the butter into small pieces and blend into the dry ingredients with a pastry cutter, 2 knives, or your own two hands (rub handfuls of flour and butter together between your hands, letting the mix fall back into the bowl) until it resembles coarse crumbs.
Stir in the chocolate chips/chunks.
In a small measuring cup or bowl whisk together then buttermilk and vanilla.
Add the wet to the dry. Stir just until the dough comes together.
Turn out on a lightly floured surface and knead dough gently 4 or 5 times to make it more uniform. Pat dough out into a ~7 inch circle ~1 1/2 inches thick. Cut the circle in half, then cut each half into 4 pie-shaped wedges.
Place the scones on the baking sheet and brush with the egg wash (beat together the egg and tbsp of milk).
Mix the cinnamon sugar and sprinkle liberally over the top of the scones.
Bake for about 15 to 20 minutes or until golden brown and a toothpick inserted in the middle comes out clean. Transfer to a wire rack to cool.
If you don't want to use the chocolate chips, you can add the same amount of a different mix-in. We like dried fruit (cranberries, cherries, raisins) when we're in the mood to switch things up a bit.
If you don't own a pastry cutter or don't want to deal with cutting in the fat by hand, you can also do the whole thing in your food processor. Pulse the mixer in short bursts to cut in the fat and then combine the wet ingredients with the dry. Pull the dough out and gently knead in your chocolate chips by hand. Proceed with the recipe as normal after that.