nmem03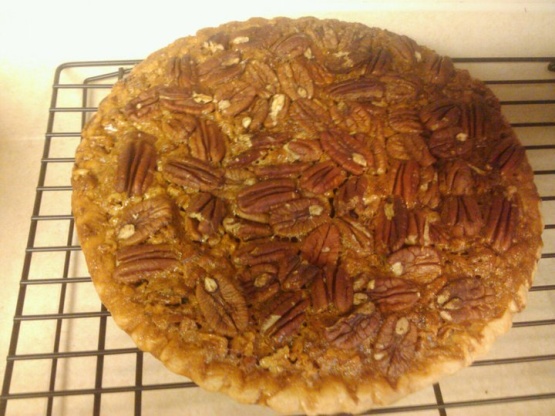 For when you can't decide if you want pecan or chocolate pie. :) Please note: you need to TEST to see if the pie is set before removing it from the oven. I use a knife. If it comes out clean, it is set. This can take longer than the 50-55 minutes mentioned. I have found it is best to cover the pie crust with foil strips for the first 30 minutes or so to keep it from getting too brown while the filling cooks.

Top Review by LizCl
Great Pie! I would normally give it a five, but the first time I made it, it was perfect. The second time I made it, it was runny. The first time I whisked the eggs and just stirred the other ingredients and the second time I beat all the ingredients, except the pecans and chocolate. I would also suggest using a deep dish pie crust.
In a mixing bowl beat eggs, sugar, corn syrup and vanilla. Add butter and mix well. Stir in pecans and chocolate chips. Pour into pie shell.
Bake at 350 F for 50-55 minutes or until set. It is important for it to be set *before* you remove it from the oven. It will not set afterward if you haven't baked it long enough. Serve with ice cream if desired.