Nestle Toll House Chocolate Chip Pie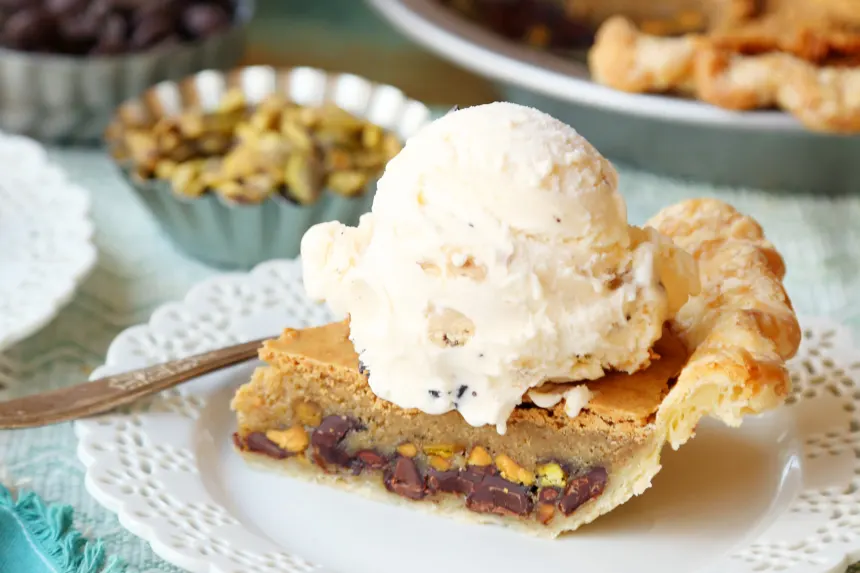 photo by Jonathan Melendez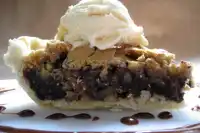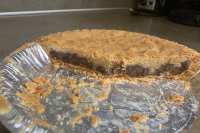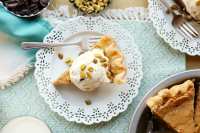 Ready In:

1hr 5mins

Ingredients:

8
directions
Preheat oven to 325*.
Beat eggs in large mixer bowl on high speed until foamy.
Beat in flour, granulated sugar and brown sugar.
Beat in butter.
Stir in chocolate chips and nuts.
Spoon into pie shell.
Bake for 55-60 minutes or until knife inserted half way between outside edge and center comes out clean.
Cool on wire rack.
Serve warm with vanilla ice cream, if desired.
Questions & Replies

Reviews
I made this for our New Year's day celebration dinner and everyone loved it! The only changes I made were to add 1 tsp pure vanilla extract, a shake of sea salt, and I used a little over a half a bag of the mini semi-sweet morsels instead of the regular sized chips. I used the smaller morsels to avoid having the chips all settle down to the bottom of the pie during baking as others who've made similar recipes have complained about. That trick really worked! I also cooked it for 1 hour and 15 minutes to avoid it being underdone (too gooey) as some other cooks have mentioned. I tried to cut the butter down to 1/2 cup, but when mixing in the chocolate chips and chopped pecans, I could tell the batter was a little too tight so I added in the extra half a stick of softened butter at that point. The texture was great, and the pie crust was so deliciously buttery. I originally thought a cookie crust would have been better than a traditional crust, but it really complimented the cookie filling beautifully. We served it with Cool Whip topping, which was wonderful, but vanilla ice cream would have been great too! I remember getting the recipe for this off the back of the Nestle Chocolate Chips bag and making it for my 18th birthday "cake" years and years ago. I don't know why I waited so long to make it again. I'm sure I will be making it often since I've rediscovered this fantastic pie after all these years. Thanks for posting!

 

We just made this and it turned out better than we expected! I was working on the computer, so my daughter and son finished it. My daughter had read all the reviews before we started. We doubled everything to make 2 pies. We sat our eggs out for 2 hours as suggested and softened our butter for 30 minutes on the countertop. My daughter made sure to beat the eggs for 3 minutes, until they were very foamy. Then they added in the ingredients slowly in the following order: flour, brown sugar, white sugar, and then butter- mixing the whole time with the electric mixer. The chocolate chips were folded in last using a spatula. We used the semi-sweet Nestle morsels and did not coat them in flour as someone had suggested. We liked the 3 layers that were in this pie- crust, sugar/flour, and chocolate. We did not want the morsels to be evenly distributed throughout. We used Land O Lakes butter- DON't USE MARGARINE! None of us are fans of nuts, so we did not add any kind of nuts to our pies. Our pies cooked for exactly 60 minutes. We put a sharp knife in when done, and it had a little liquid on it (it should not be expected to come out clean---you don't want it too dry--you have melted chocolate in it!), but we took them out and let them set for 4 hours before cutting them. We did not put anything on the top of the pies but served them with ice cream. The pieces of pie came out in tact and very solid. It was delicious! We wrapped the leftovers in tinfoil and stored it on the counter. It was great the next day heated for 10 seconds in the microwave. Some family members liked it room temperature. This is a great recipe! We hope we help someone else when making this delicious dessert! Thanks to those reviews that helped us.