Chocolate Chip Meringues (using powdered egg whites)
Dorel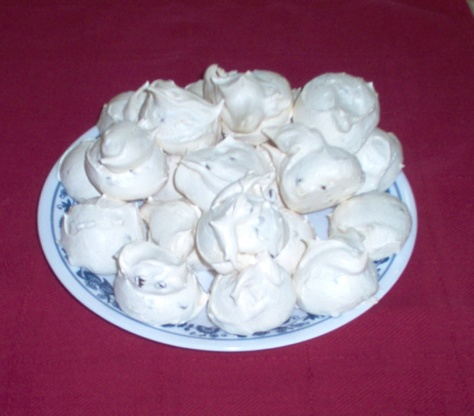 This recipe is different from many other meringue recipes because it calls for powdered egg whites rather than fresh. The nuts are optional. Adapted from "Wilton Celebrate."
Mine turned out great! My 9 year old daughter helped pipe them out into cute little cakes. We made 3 batches. Our cooked for only 30-40 mins. So make sure to watch for the cracking texture. Great recipe!
Preheat oven to 275 F.
Beat powdered egg whites with sugar, water and flavoring on high speed of an electric mixer for 4-5 minutes or until stiff peaks form.
Gently hand stir in chocolate chips and nuts (if using).
Drop Tbsps of batter onto parchment-lined cookie sheets and bake for 55-60 minutes or until lightly browned and dry.
Do not overbake.
These only keep a few days in a wax paper lined cookie tin, so don't make too far in advance.