Chinese Mushroom Pork Fried Rice
Pellerin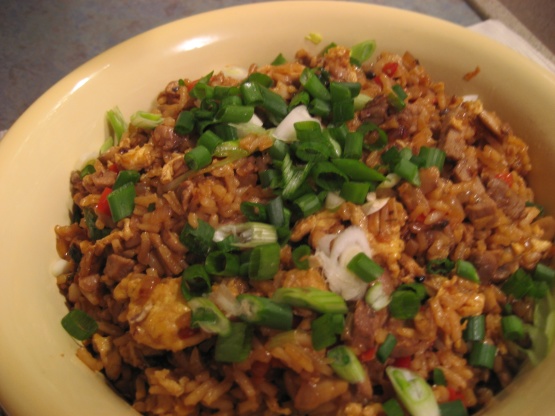 I make this often, it is a favorite at my house! Make certain that your rice is cold before using in this recipe, so don't throw out that leftover rice from your Chinese food take-out, or prepare your rice a day ahead and refrigerate. The chili flakes are optional, add in if you like some heat! You can really make this rice using whatever cooked meat you have on hand. In place of the mushrooms you can use cooked fresh or frozen peas or use both! Cooking and prep time does not include cooking the rice.

Yay! The first time I've made fried rice and liked it! It will be good to make when I get a craving for chinese food. I just needed a good recipe like this and to prepare some drier rice and make sure they are really separated well. Thanks for posting this!
2

tablespoons vegetable oil, divided

3

eggs, well beaten (can use 2 eggs)

1

small onion, chopped (can use more or less)

1

tablespoon chopped fresh garlic (optional or to taste)

1 -2

teaspoon dried chili pepper flakes (optional)

1

small red bell pepper, seeded and chopped
2 1⁄2 cups cold cooked white rice

1

cup cooked pork (chopped or cut into thin strips)
1⁄4-1⁄3 cup light soy sauce

1

(10 ounce) can sliced mushrooms, well drained
chopped green onion
Heat 1 tablespoon oil in a skillet or wok, add in the eggs and cook breaking up into small pieces; remove to a bowl or plate and set aside.
Add in 1 more tablespoon oil; heat until hot.
Add in the chili flakes (if using) chopped onions, and red bell pepper; saute for about 4 minutes or until soft, adding in the garlic the last 2 minutes of cooking.
Add the eggs back into the wok or skillet along with the cooked cold rice and cooked pork and mushrooms.
Add in the soy sauce (starting with 1/4 cup) mix until heated thoroughly.
Place in a large bowl and sprinkle with chopped green onions.
Delicious!