Chinese Fish and Lettuce Soup
teresas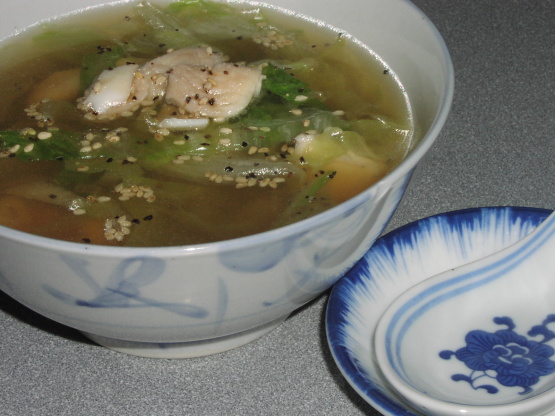 This recipe comes from a cookbook "Three Ancient Cuisines" by Jeff Smith, know as "The Frugal Gourmet." Beautiful in its simplicity!

Absolutely delicious! I did make a few small changes...I omitted all oils...just because I can't have any fat now...I also used black pepper and a sprinkle of sesame seeds on top. This is so good! You just can't stop eating it...I ate 2 bowls full...Yum! Next time I plan on using shrimp in place of the fish...Thanks for posting!
1⁄2 lb very fresh white fish, boneless fillet, sliced thin (cod or snapper work well)

Marinade

1

tablespoon light soy sauce

1

tablespoon peanut oil

1

pinch white pepper

Soup

3

cups iceberg lettuce, sliced in long threads

2

slices fresh ginger, each the size of a 25-cent piece, julienned

1

tablespoon peanut oil
1⁄4 teaspoon salt

4

cups chicken stock (or veggie stock)

1

tablespoon chinese rice wine or 1 tablespoon dry sherry

Garnish

sesame oil
white pepper, to taste
Thinly slice the boneless fish and soak in the marinade.
Shred the lettuce and set aside.
Cook the ginger, oil and salt just until the ginger begins to brown a little bit. Add to the soup stock and bring to a heavy simmer.
Just prior to serving, drain the marinade from the fish and add the fish to the soup pot, all at once, along with the lettuce and the rice wine or sherry.
Bring back to a full simmer, then remove from stove.
Do not overcook the soup.
Add a few drops of sesame oil and pepper for garnish, and serve immediately.