Chili Stuffed Bell Peppers
Robert_L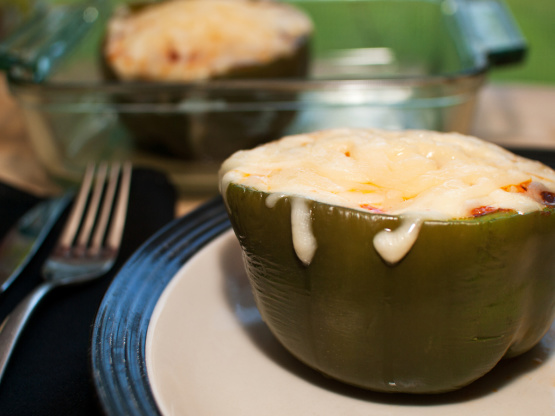 WE loved these!! Different than the traditiona for a change. I only used 2 peppers (for my husband and I) because my kids hate peppers. I also used 2 cans of chili beans because we like it that way. So, for the left over chili, we ate for left overs. Really good for being fast and easy.
Cut tops off peppers and remove seeds.
Place peppers in a large kettle and cover with water. Bring to a boil; cook until crisp-tender; about 3 minutes. Drain and rinse in cold water; set aside.
In a large skillet; cook beef and onion over medium heat until meat is no longer pink; drain.
Add beans, tomatoes, chili powder, salt if desired, pepper and cayenne. Bring to a boil.
Reduce heat; cover and simmer for 5 minutes.
Spoon meat mixture into peppers; place in an ungreased 3-qt. baking dish. Cover and bake at 350 for 20-25 minutes or until heated through.
Sprinkle with cheese.