Chili Rubbed Baby Back Ribs W/ Dark Roast Coffee Barbecue Sauce
Bergy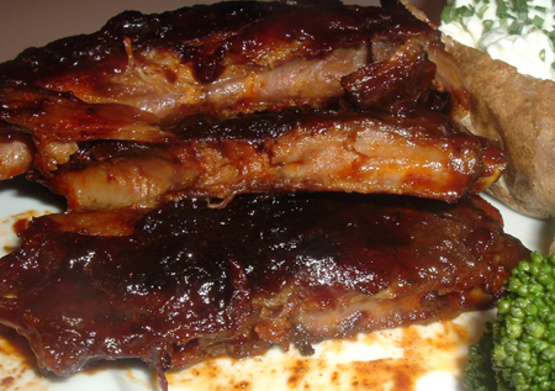 Coffee inspired barbecue rib rub.

SOOOOOO GOOD!!! i made this a few weeks back and Im already getting requests to make again. The only thing i would do differently is tune down the red pepper if you dont like your ribs too spicy. otherwise the spices are right on.
I ended up using Guinness for the beer, and Medaglia D'Oro for the coffee part. wasnt sure how that combo was going to turn out, but they worked really well.
Thanks for sharing!!
For the rub:.
Whisk rub ingredients together in small bowl.
Rub spice mixture all over ribs.
Gently boil beer in medium saucepan until reduced to about 1 cup.
Place ribs in roasting pan or thick foil for grill. Pour beer around ribs. Cover ribs with foil and set aside.
Preheat oven to 400F or preheat gas grill to approximately 350-400°F
Once heated, roast ribs for about 1.5 hours. If using outdoor gas grill try adding some alder or cherry wood chips (if not for anything other than a neighbor jealousy-inducing aroma).
For the BBQ sauce:.
Combine ingredients in medium saucepan and simmer for 10 minutes, stirring occasionally.
Brush ribs with sauce. Grill ribs over medium heat, about 5 minutes per side. Save some sauce for slathering and dipping.
Serve with polenta.