Coffee Bourbon Barbecue Sauce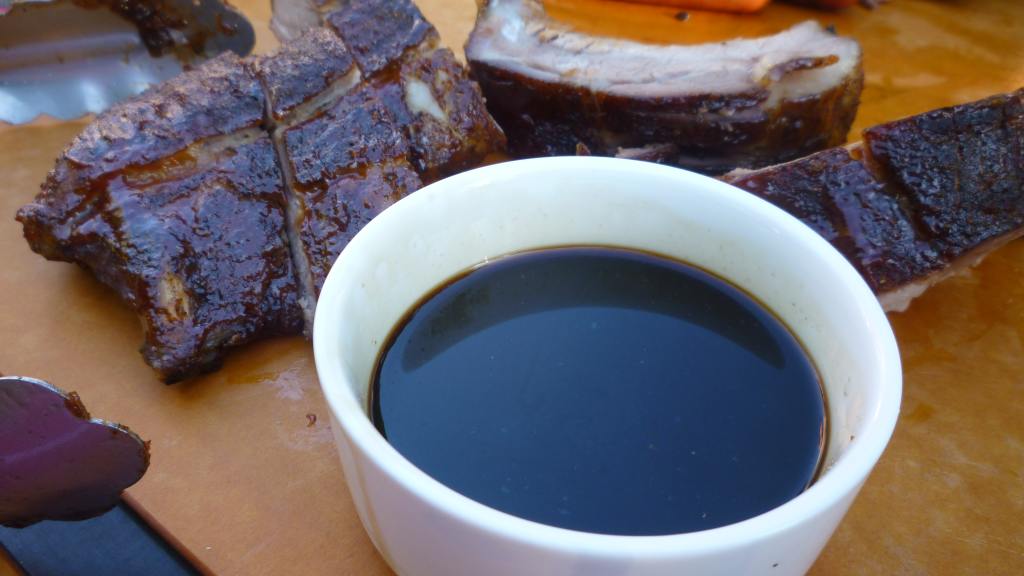 Ready In:

20mins

Ingredients:

6
directions
Simmer all ingredients in a 2 1/2- to 3-quart heavy saucepan, uncovered, stirring occasionally, until reduced to about 1 cup, 15 to 20 minutes (sauce will be thin).
Cool to room temperature.
Serve with steak or chicken.
Join The Conversation
First off, soooo fabulous. Flavor is amazing, both adults and the young kiddos loved it poured over dry rub bbq ribs. I was a little confused on how I'd use this as I made it...it is very thin, like a marinade. I kept expecting it to thicken up and it didn't. So, it would work great as a marinade, but it's so much more than that, it's like a finishing sauce. We made dry rub ribs and then just poured the sauce over the ribs and then dipped the ribs in the sauce. It would be great for any meat. Based on other reviews I decided to cut the soy sauce in half. For me the soy was not too much and I was able to taste the other flavors...like I said above, the young kids liked it too which was unexpected. I used espresso roast coffee and Makers Mark bourbon. Thanks Elmotoo, this is a great addition to our summer grilling menu!!

This was out-of-this-world on grilled flank steak. I used J.D. for the bourbon, and it seemed to be the perfect choice. I also added more sugar and some black pepper, but that is just because I love sweet and spicy sauces. 10 stars for this recipe! Thanx for posting. I will be making this many more times.

This recipe intrigued me because of my Dallas BBQ roots, its unique ingredients & the fact they do not include the usual tomato influence. I used it as a simple sauce for a well-seasoned & pan-grilled hamb steak served w/potato salad. I made it a dy ahead for the flavors to blend & highly recommend this. It is quite tasty, but thin (as you said). Its thinness may also make it work well as a glaze for a roast & roasted chicken or a marinade. Thx for sharing your recipe w/us.