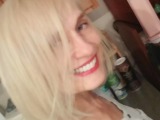 Based on a recipe from The Whole Chile Pepper magazine, Fall 1988 issue. The article's author, Nancy Gerlach, says, "This soup, which combines two native Southwestern ingredients, chile and corn, is easy to prepare and can also be made in a crock pot."
Directions
In a large pot over low heat, combine all ingredients except cheese and cream.
Cook until potatoes are tender.
Add cheese and cream, and heat until cheese melts.
Reviews
Most Helpful
A quick and flavorful twist on corn chowder. It was lovely to have a bowl of this chowder on a cold and wintry evening! Thanks for a great recipe!
Great taste and easy to make. If you don't have a lot of time, get Mirepoix (a mix of chopped carrots, onions, and celery) either in the produce or frozen vegetables section. Then you only need to throw everything together, a matter of minutes.
This is excellent. The green chiles really set this version apart from other corn chowders. We absolutely loved the addition of them. Thanks for sharing!