Chicken With Wine and Mushrooms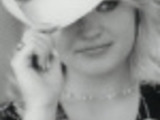 Amazingly simple, delicious and low calorie! Only 220 calories per serving! Plus this plates up beautifully and makes you look like you went all out! Makes any occasion special! Boneless skinless chicken breasts browned and juicy with a very tasty wine and mushroom sauce that is perfection on a plate! Yet this is so fast, easy and delicious you can make it on any busy weeknight or serve it up at your best dinner party! They just won't know what hit 'em!
Directions
Heat oil in a large skillet and brown chicken breasts on both sides. Cover and cook until juices run clear. About 6-10 minutes, depending on thickness. Remove chicken and keep warm. If you find you need more oil use some cooking spray instead if you want to keep the fat and calories down.
In the same skillet saute mushrooms, garlic and onions- green and white parts- until tender.
Add butter salt and pepper and when butter has melted stir in wine or broth- I recommend wine! -.
In a small bowl combine water and cornstarch and stir until smooth and dissolved. Add to skillet.
Bring to boil, cook and stir for 2 minutes or until desired thickness.
Return chicken to pan and heat through. Taste for seasoning and add some salt and pepper to taste if desired.
Serve over rice, noodles or mashed potatoes.
NOTE: If you want even more sauce add 1 more cup of chicken broth to the wine or broth in step 3. Want the sauce thicker? Add more cornstarch in step 4.
Reviews
Most Helpful
This was very good and quite pretty, but I did make some changes. I only used 1/4 t of salt. While I cooked the chicken, I put oregano, rosemary and parsley in the wine to soak. I used unsalted butter and put pepper on the chicken before browning. I thought it came out delicious. I served it over brown rice with a side of asparagus. Oh and I used spanish onions as that was all I had on hand and sliced them.....still lovely and very tasty. I used cooking wine also....Goya dry white wine (cooking) I was happy with the results. I don't drink wine (more of a beer girl :) ), so that was all I had on hand! Thanks for posting, will definitely make this again!
This was very simple to prepare and the result was the taste of a sophisticated meal! I served it along a pilaf and garlic spiked spinach. You would have never have known this was a dietetic meal by the taste. My wife loved it and I will be preparing this for large dinner parties. Thanks for sharing!
Really easy to make and tasted delicious. I didn't have white wine so I used red wine and it turned out fantastic!! Thanks for posting