Chicken With Olives and Lemon
Bergy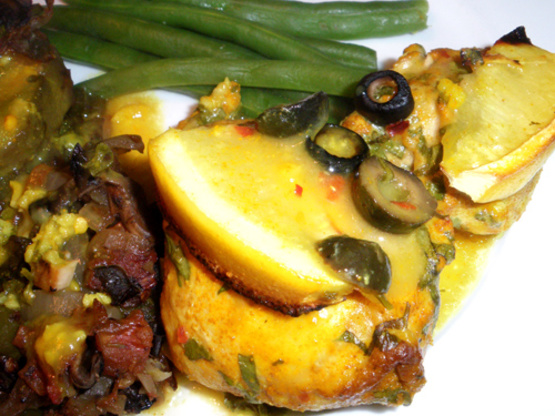 Top Review by Denise
No rating, just a comment - I love all the ingredients in this dish, I thought it would be a big hit with us. DH liked it, but the cumin and lemon really threw me off. It just didn't work for me and I'm sure that is personal taste, therefore no review. I do love the concept - that it makes it's own sauce. I may play with this a bit and use different ingredients and I really do appreciate the method.
Preheat oven to 325 degrees.
Combine first 8 ingredients in a large bowl, stirring well. Add chicken; toss to coat.
Arrange chicken in a single layer in a 13 x 9-inch baking dish coated with cooking spray.
Lightly spoon flour into dry measuring cup; level with a knife.
Combine flour, juice, and broth, stirring with a whisk until smooth. Sprinkle flour mixture over chicken, tossing to coat.
Top chicken with olives and lemon.
Bake at 325 for 1 hour or until thermometer registers 180 degrees.