Chicken With Fettuccine Alfredo
fawn512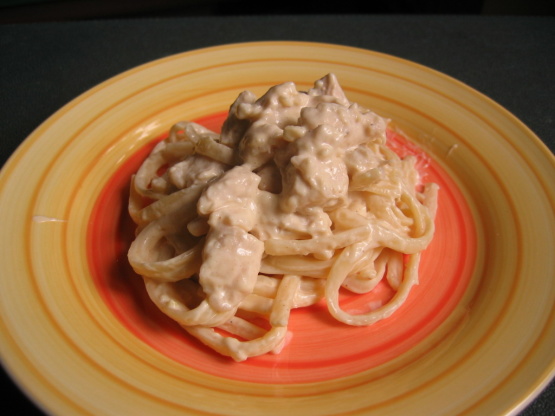 Juicy chicken with a great creamy alfredo sauce. Very easy to make!

This was a quick fix that everyone loved. What I liked the best about this is the chicken didn't get lost in the sauce. I browned the chicken and before serving, cut it onto bite sized pieces and mixed it together with the fettuccini. I found it served up easy and displayed nicely.
Cook fettuccine according to package. Drain.
While fettuccine is cooking, prepare chicken.
Heat 12-inch skillet; add 2 TBSP butter.
Flatten chicken slightly.
Salt and pepper chicken.
Roll in flour, add to skillet.
Cook and brown until juices run clear, about 10 minutes.
Remove from skillet.
Add to skillet 2 TBS butter, onions, and garlic.
Cook 1 minute.
Add cream, cook for 3 minutes until reduced a bit.
Add cheese, parsley, and red pepper flakes. Stir well.
Add last 1 TBSP butter and stir well.
Bring back chicken and coat with sauce.
Place chicken on plates, put fettuccine in sauce and swirl around to coat well.
Add to plate with chicken.