vrvrvr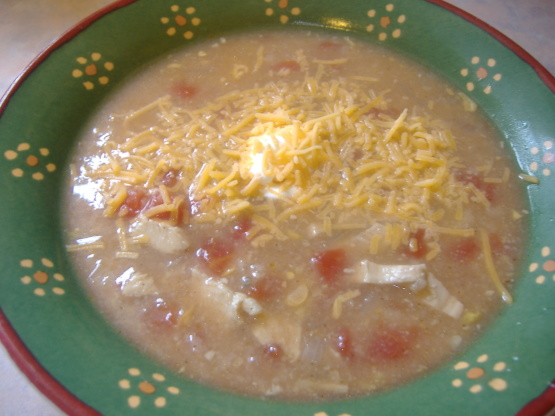 Straight-forward, non-fussy, you've got these ingredients in the house! And it's soooo good.
This soup is Delicious & very easy to make. I had everything on hand, didn't use the butter just sprayed the soup pot with EVOO & sauted the onion & garlic,used homemade chicken stock & chicken that I had cooked & frozen. I used a can of Ro-Tel tomatoes the green chiles added a nice flavor so we didn't need the hot sauce. The grated cheddar cheese was a good addition to the soup. Vivian, I will be making this often as we loved it!
In soup pot, melt butter. Add onion and garlic, saute gently 5 minutes.
Add corn, tomatoes, chicken stock, cumin, chicken and tortilla chips.
Heat, stirring to a boil. Reduce heat and simmer gently, stirring occasionally to prevent scorching on the bottom.
Simmer 20 to 30 minutes.
Ladle hot soup into bowls; top with a mound of shredded cheddar cheese, dribble hot sauce over (for those who like it spicier.).