Chicken Tikka Masala by Jamie Oliver
Prep 45 mins
Cook 30 mins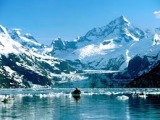 A popular curry recipe. Suggested to serve with rice. A cold beer wouldn't hurt either. :) Classic! (Prep time includes 30 minutes of marinating time)
Directions
Grate the garlic and ginger and put to one side in a bowl. Chop the chillies as finely as possible and mix them in with the garlic and ginger. Heat a good splash of oil in a pan and add the mustard seeds. When they start to pop, add them to the ginger and garlic mixture along with the paprika, cumin, ground coriander and 2 T of the garam masala. Put half of this mix in a bowl, add the yogurt and the chicken pieces to it, stir and leave to marinate for about a half an hour.
Melt butter in the same saucepan the mustard seeds were in and add the sliced onions and the remaining half of the spice mix. Cook gently for about 15 minutes without browning too much. Add the tomato puree, ground nuts, 2 1/2 C of water and 1/2 t of salt. Stir well and simmer gently for a few minutes. Let this sauce reduce until it thickens slightly and then place to one side.
Put the marinated chicken on a hot griddle pan and sear until cooked through.
Warm the sauce and add the cream and the other T of garam masala. Taste and correct the seasoning if necessary. As soon as it boils, take off the heat and add the grilled chicken. Check the seasoning again and serve sprinkled with the chopped cilantro and the lime juice.
Reviews
Most Helpful
1st curry I've ever made my partner loved it,took awhile to prepare and cook but well worth it, will defaintantly cook it again

Excellent Tikka recipe, we all just loved this! It was super easy to make and yet looked like it took a lot of work. It was moist and flavourful, just delicious. Served it with basmati rice and chapati for an amazing meal. Thanks for posting! Made for ZWT #8 :)
How we love tikka!
Tiikka is one of our favorite indian chicken dishes and we really loved this one as well.
The spice mixture was perfect and the recipe easy to follow.
As we added the cream, the resulting color was not really appealing (but the taste delicious) and for this reason I simply placed it in a mold and broiled 2-3 minutes until the color changed to orange red. To serve I dusted with very small amounts or turmeric and red paprika. I also decorated it wih cherries tomatoes.
Thanks a lot for this moist tikka recipe!