Chicken Tikka Masala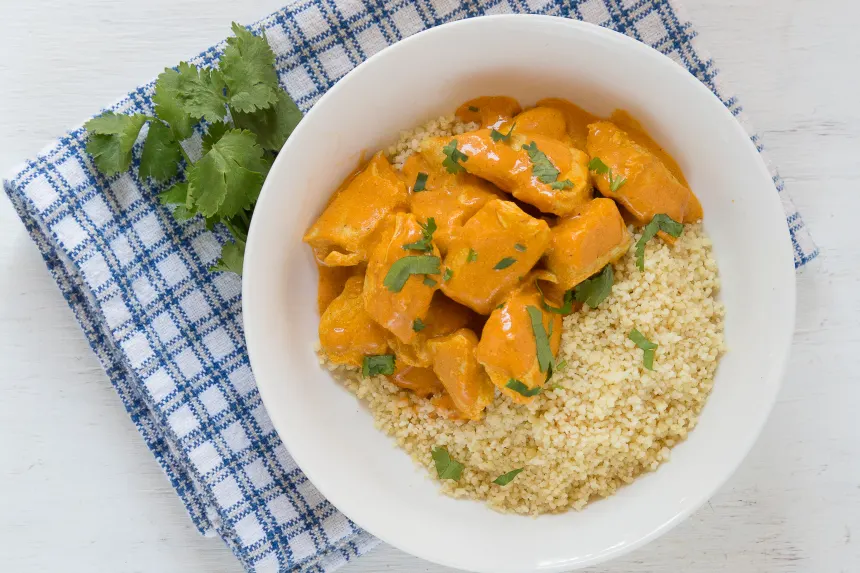 photo by The Food Gays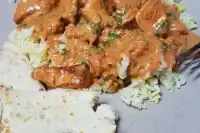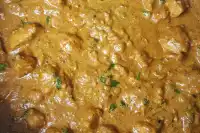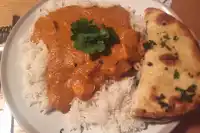 Ready In:

2hrs

Ingredients:

21
directions
Soak bamboo skewers in water.
Thread chicken on skewers, and marinate (in the refrigerator) for an hour or so.
Discard marinade.
For sauce, melt butter on medium heat.
Add garlic & jalapeno; cook 1 minute.
Stir in coriander, cumin, paprika, garam masala & salt.
Stir in tomato sauce.
Simmer 15 minutes.
Stir in cream; simmer to thicken- about 5 minutes.
Grill or broil chicken, turning occasionally, to cook through- about 8 minutes.
Remove chicken from skewers; add to sauce.
Simmer 5 minutes.
Garnish with cilantro Serve with basmati rice, naan or pita bread.
Note: You can make your own garam masala. McCormick also makes garam masala; it's available in super markets.
Questions & Replies

Reviews
This recipe is my favorite Indian recipe so far... it tastes authentic! It's just like the Chicken Tikka Masala at my favorite Indian restaurant, and that's a first. I've made this recipe several times and found that instead of the marinading step, you can stir fry the chicken cubes in 2 tbsp of Tandoori Masala and it tastes just as good (if not better) and speeds up this recipe by quite a bit. Some other changes I've made to tweak it to my liking: I add small a white onion, one green pepper, 1tbsp of cayenne, and I substitute the 1 cup of whipping cream for 3/4 cup of half and half and 1/2 cup of plain yoghurt (still comes out very creamy). I highly recommend this recipe to anyone who craves a taste of India without having to go to a restaurant!

 

I've made this several times now and have learned a few things. 1) Grilling the chicken is an unnecessary step. Broiling is easier or you could just saute the meat with the garlic and jalapenos. 2) If you're using coconut milk instead of cream, go with the REAL high-fat milk, not the lite stuff. The difference in texture and creaminess is worth it. 3) I make this with sweet potatoes sometimes instead of chicken. Cube the taters and marinade, then grill in foil until they're nice and soft (but not mushy). Add them to the sauce once the sauce is almost done. 4) Halving the cayanne in the marinade is a good idea unless you are insane and really want to blow your head off. This is fantastic and delicious!

 

I make this recipe once a month. It is my standard Chicken Tikka Masala recipe. I recently made it for the family. Friends of mine have often mentioned that this is their favorite Chicken Tikka Masala. It's better than many dishes I've had at restaurants. I agree with another reviewer who bakes and broils the chicken. I rarely grill it, unless there's someone I'm cooking for who loves to have chicken grilled. Don't worry about being too picky about certain creams/yogurt. I've used whipping cream, milk, yogurt, half/half, etc. People can never tell the difference. It's more noticeable if you don't use the right spices. Doing this review has made me crave some more!

 

I followed this recipe exactly. No modifications whatsoever. I did however double the sauce as I knew I wanted some left over. It was great. It tasted like we ordered it from a restaurant. My whole family, including my four and two year old, thoroughly enjoyed this meal. I look forward to making it again.

 
Tweaks
I started with the recipe as a base and had to tweak it a great deal for our tastes. I ended up looking at a lot of recipes and used techniques from those, with this as the basic starting recipe, to get a really good dish. 1. We only like a little spice, so I added 2 stp of chili paste instead of the jalepeno after I made the sauce. Since it's not very spicy, it makes the dish more bland. 2. I ended up using 3 tsp. garam masala, and adding 2 tsp. of turmeric instead of paprika. This is common in many recipes. It also needs 1-2 tsp. of salt, depending on your tastes. 3. Also, I find that this is best made with tomato paste. I put a half-can in part of the pan with a tiny bit of oil and cook it while stirring, every minute or so, for 5 minutes. 4. It's important to toast the spices before finishing the sauce. This is what is typically done in Indian cuisine. As my tomato paste was cooking, I added the spices next to it (dry, but a little oil is also fine) and let them toast until I could smell them, about 1 minute or so. Next, I mixed them in with the paste. 5. When my spice mix was done cooking, I add the chicken and the cream, and simmer for 20 minutes, stirring occasionally. Good additions: 1 sauteed red bell pepper in large bite sized pieces, 1 small sauteed chopped onion, 1 whole chopped fresh tomato (Very common in recipes. Many recipes use a small drained can of tomatoes)-- All of this needs to be added added in with the chicken. You can also add 5-8 oz of raw baby spinach stirred in the last 5 minutes with the lid on. It takes about 5 minutes to wilt down. Chickpeas and cooked potatoes are also very good added at the end. Just pick and choose your favorite additions. -If you want it more saucy, which you really need if you add a lot of veggies, you can use 2 cups of cream and an extra tsp of garam masala. When I do that, I add the whole can of tomato paste and more salt, plus an extra tsp of chili paste. Coconut milk (the kind on the can) is a very good sub for cream. I use cream, but have used the coconut milk. It also still tastes really good if you just season and saute the chicken without marinating it. The taste difference is so minor, it really doesn't impact the flavor much.

 
RECIPE SUBMITTED BY
Retired, former teacher of Chinese cooking, caterer of Chinese banquets and restaurateur.
View Full Profile