Chicken Thighs With Roasted Apples and Garlic
rpgaymer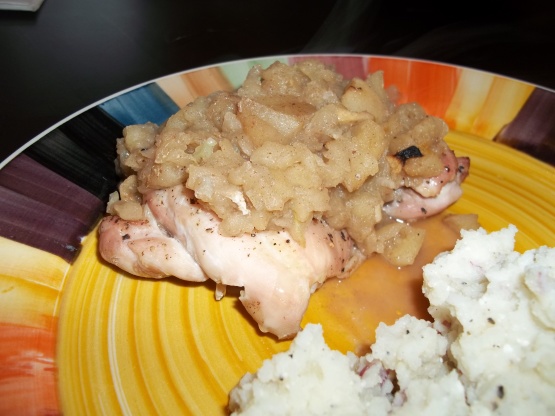 From Cooking Light The apples create a flavorful chunky sauce. Feel free to leave bits of peel on the apples to make this rustic dish even more colorful.
Awesome recipe. I added a tablespoon of brown sugar to the apple mixture, and it tasted perfect. Thanks for sharing!
Preheat oven to 475°.
Combine first 5 ingredients. Add 1/4 teaspoon salt; toss well to coat. Spread apple mixture on a jelly roll pan coated with cooking spray.
Sprinkle chicken with 1/4 teaspoon salt and pepper, and arrange on top of the apple mixture. Bake at 475° for 25 minutes or until chicken is done and apple is tender. Remove chicken from pan; keep warm.
Partially mash apple mixture with a potato masher, and serve with chicken. Sprinkle with parsley, if desired.
Yield: 4 servings (serving size: 2 thighs and about 2/3 cup apple mixture).