corelila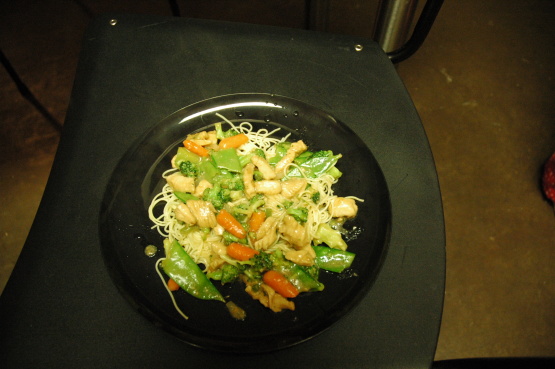 A delicious, healthy, substantial meal. Very colourful.Prep time includes marinating time.

I thought this was delicious! However I changed a few things.
When frying the chicken I fried onion with it to give more flavor and then only added broccoli and cauliflower and it tasted delicious!
Next time when making this I will use a little bit more sauce cuz I found it needed a little more ;) But key point is I will be making this again, Great recipe!
Cut chicken into 1/2 inch strips.
Stir together cornstarch, soy sauce and garlic.
Add chicken strips.
Toss to coat.
Marinate at least 30 minutes.
Heat 2 tablespoons oil in a large skillet.
Stir fry chicken until no longer pink.
Remove and keep warm.
Do not overcook.
Add remaining 1 tablespoons oil to skillet.
Stir fry broccoli, celery, carrots, and onions until done as you like.
Add chicken stock.
Add reserved cooked chicken.
Cook and stir until thickened and bubbly.