Chicken Stir-Fry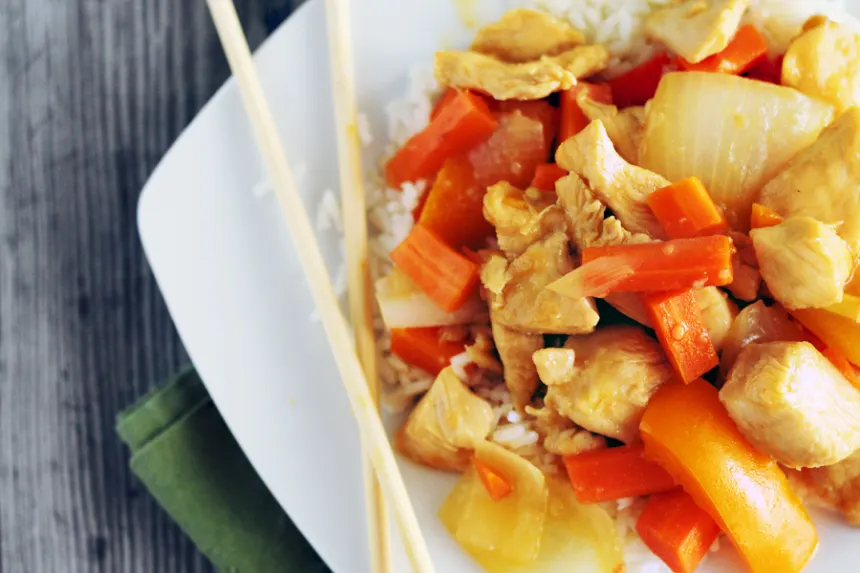 photo by Dine Dish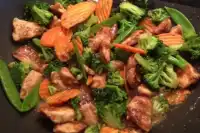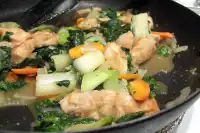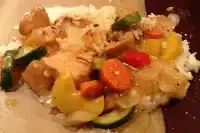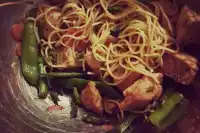 Ready In:

1hr 15mins

Ingredients:

12
directions
Cut chicken into 1/2 inch strips; place in a resealable plastic bag.
Add cornstarch and toss to coat.
Combine soy sauce, ginger, and garlic powder; add to bag and shake well.
Refrigerate for 30 minutes.
In a large skillet or wok, heat 2 tablespoons oil; stirfry chicken until no longer pink, about 3-5 minutes.
Remove and keep warm.
Add remaining oil; stir fry broccoli, celery, carrots, and onion for 4-5 minutes or until crisp-tender.
Add water and bouillon.
Return chicken to pan.
Cook and stir until thickened and bubbly.
Reviews
The first time I made this recipe, it was very bland and boring. But it definitely makes a great base recipe, as other reviewers have suggested. The second time I made it, we added:<br/><br/>- Double the sauce<br/>- 2 tablespoons of brown sugar<br/>- 2 tablespoons of Spicy Oyster Sauce (which is not actually spicy but adds a lot of flavor)<br/>- bok choy (cut the stems on diagonals and add with the rest of the veggies, cut the leaves across the grain and add at the very last minute of cooking just to wilt them.)<br/>- asparagus<br/>- red bell pepper<br/>- baby corn (from a can)<br/>- sliced water chestnuts (2 cans)<br/>- sliced mushrooms (stems and pices from a can)<br/>- bamboo shoots (strips, from a can)<br/><br/>This is a LOT of extra veggies, so it makes a large dish. Either pick the veggies that are your favorite, or invite a crowd! :) Because of the amount of extra veggies, you'll have to double or even triple the sauce, but you want to make sure the veggies are FRIED, not boiled, so add the sauce in parts and then add more as it cooks down. You may need to add additional cornstarch at the end to thicken it. I also used peanut oil for frying and then I sprinkled sesame seeds over the top at the end.<br/><br/>My husband gave the initial recipe 3 stars, the final revision got 5 stars. So thanks for a good base recipe!

 

Wow, this is tasty and easy to put together. Even the kids who normally moan and groan when stir fry is served ate this up. I used a bag of frozen stir fry veggies and used up some broccoli and last two stalks of celery. Oh, and I used a thai soy sauce (which is a tad sweeter than traditional soy sauce.) ***just an update. I've found the texture of the chicken is perfect when I cook the chicken in a skillet on high (don't have a wok...so had to experiment a little.)

 
Tweaks
This was a good basic stir fry recipe. I made some changes. I used zucchini, yellow squash, and mushrooms instead of the celery and broccoli. After it was finished cooking I added more soy sauce, some brown sugar, and some sriracha sauce. We served it over brown rice, and it was very good! Thank you for sharing!

 

This recipe was delicious! Just made it for my family today. Very simple and quick. I loved the method of coating the chicken with corn starch first and marinating the chicken. I changed the recipe to my personal preferences though. I LOVE onions and peppers in my stir frys so I used them instead of the carrots and I did use frozen broccoli. Gives it a lot of color. came out great! thanks so much for posting this recipe!!!

 

Delicious! I made some changes though - I omitted the ginger as my husband doesn't like it. I also used frozen green beans instead of fresh veggies and added minced garlic when I added the beans. I used chicken broth in place of water and boullion and I used Ponzu sauce in place of soy sauce in the beginning and then added soy sauce at the end with the broth. Overall, very delicious!!! My husband really enjoyed it.