PaulaG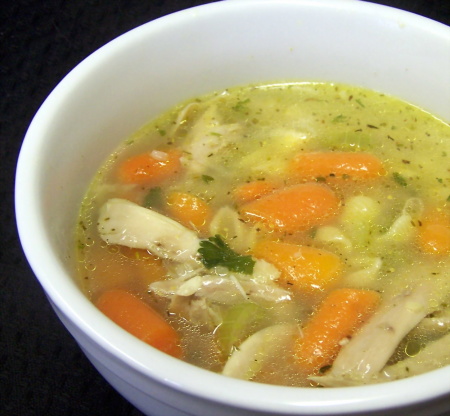 Not much to say...if you're soup impaired (like me), this is simple and good. I came up with this by using ideas from many different recipes and only adding ingredients my family likes.
Top Review by PaulaG
This recipe makes a lot for the 2 of us. Instead of reducing the recipe, I decided to make a full recipe and split it before adding the pasta. That way I can put the soup minus the pasta in the freezer, thaw when needed and add the pasta. I used chicken leg quarters with the skin removed to make it lower fat. Instead of the bouillon cubes, I used a chicken soup base to add extra richness. Also added a couple of ribs sliced celery and reduced the carrots somewhat. After tasting the soup, I thought it needed a little extra flavor and sprinkled it with a seasoning blend that included rosemary, thyme, sage and bay leaves. This is a good basic chicken soup recipe and numerous options to individualize it for personal taste. Thanks for posting.
Place chicken and water in stock pot and bring to a boil.
Reduce to a simmer and add remaining ingredients EXCEPT PASTA; cover.
Simmer for 45 minutes and then remove chicken to a plate.
Add pasta to broth and bring back to a boil; reduce to low/med heat, do not cover; let cook for about 20 minutes.
Meanwhile, when chicken is cool enough to handle, remove skin and discard; pull bite sized pieces of chicken from bones and add back to soup, discarding bones.
By this time, your pasta should be tender; if not, allow to simmer a few more minutes.
Check to see if you need more salt and/or pepper and then serve.