sheepdoc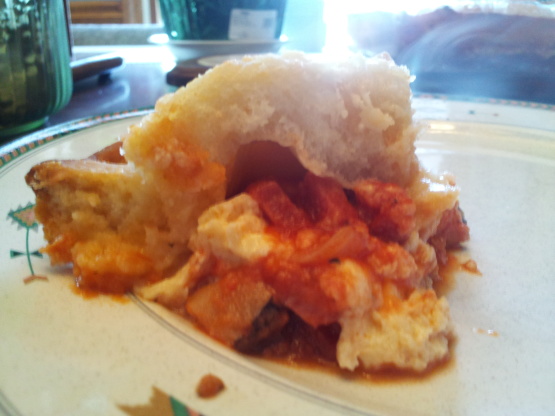 A great dinner to satisfy the craving for an italian night. Something a little different that is sure to please the whole family!

This was very tasty. It would have been much better if I had found crescent roll dough in a can. I had to make my own and it's just not flaky enough. I used leftover ham, onions, and mushrooms instead of chicken. The recipe was missing some ingredients but I figured it out from the directions. I used 1 cup Fage 0%, 1 1/2 cup shredded mozzarella, and an egg for the cheese layer.
Heat oven to 375 degrees Fahrenheit.
In large skillet, brown chicken and onion then drain.
Return meat to pan; add spaghetti sauce.
Meanwhile, in a medium bowl combine mozzarella cheese and sour cream. Pour hot meat into an ungreased 12 x 8 inch dish.
Spoon cheese mixture over meat. Unroll crescent roll dough over the top of the mixture. Mix parmesan cheese and butter together, then spread over the top of the dough. Bake 18-25 minutes or until golden brown.