Chicken, Mushrooms and Sugar Snap Peas over Rice
L00k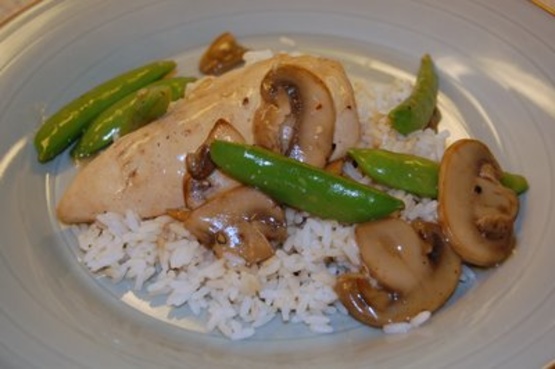 You may substitute 2 4.5 ounce jars of sliced mushrooms for the fresh if desired.
Cook rice in 1 1/2 cups water as directed on package.
Meanwhile, in 10-inch skillet, heat oil over medium high heat until hot.
Add garlic and mushrooms; cook about 4 minutes, stirring frequently, until softened.
Add broth and thyme; heat to boiling.
Sprinkle chicken breasts with salt and pepper; add to skillet.
Reduce heat to medium-low; cover and cook about 10 minutes or until juice of chicken is clear when center of thickest part is cut (170*), turning once.
In small bowl, mix cornstarch with 1 tablespoon cold water until smooth.
Stir into chicken mixture.
Increase heat to medium-high.
Add sugar snap peas; cook about 5 minutes, stirring constantly, until sauce is slightly thickened and peas are hot.
Serve chicken with sauce and vegetables over rice.